College of the Mainland comes to League City
Jun 7, 2017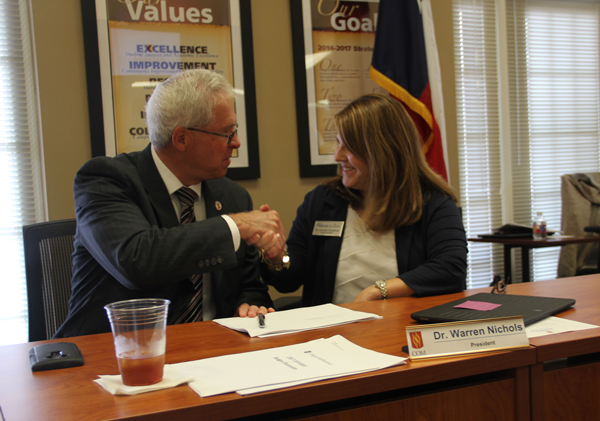 College of the Mainland has signed an agreement with Odyssey Academy in League City to lease a facility to accommodate COM's burgeoning dual credit and academic credit classes.
COM will lease the nearly 6,000 square-foot Odyssey Academy facility at 102 E. Walker St., renamed COM's Learning Center – League City East. The facility will serve some of COM's more than 1,000 dual credit students in addition to the main campus and current COM Learning Center – North County at 200 Parker Ct. in League City. History, sociology, sign language and German classes will be offered in the evenings during the fall 2017 semester at League City East, and these classes will be open to all COM students.
"College of the Mainland's second center for dual credit classes in League City will provide affordable college classes that will provide aspiring professionals with an opportunity to acquire college classes both at a faster rate and at a reduced cost as compared with most four-year universities," said Scott Livingston, director of economic development for League City.
"A community college provides quality education that supports the economic well-being of a community in many ways. It provides convenient and affordable vocational training and college education that strengthens local business employment, makes the community more competitive in attracting new, quality primary employers, and supports citizens who are entering the workforce for the first time, re-entering the workforce, and/or changing professions."
The center will be busy – it will serve dual credit students from Clear Falls High School in the mornings and COM credit students in the evenings and afternoons.
Students taking dual credit classes earn both high school and college credit simultaneously at a fraction of the cost of a university course. Some students earn so many credits that they can begin at a university as a college sophomore.
"I'm very happy to have dual credit close by for our students. It's safer and more convenient for our students and they will be with other dual credit students from other schools," said Dr. Jennifer Goodman, superintendent of Odyssey Academy, a public charter school in the Bay Area and Galveston.
"Dual credit is wonderful way to transition students to college, especially for first-generation college students. We want students to see what college is like and see it is attainable."
COM serves students, who can begin dual credit at any age, from Texas City, Hitchcock, Santa Fe, Dickinson, Friendswood and Clear Creek ISDs and Bay Area Christian School.
"Dual credit is growing everywhere in COM's district, especially in the north county – Clear Springs, Clear Falls, Clear Creek and Bay Area Christian," said Theresa Jones, dual credit coordinator. "Leasing Odyssey Academy will let us serve more students."
COM dual credit students can take academic classes or workforce classes that prepare them to earn certificates in growing fields. Current options for workforce classes include networking administration, welding, medical assistant, cosmetology, pharmacy technician, graphic design, drafting, computer programming, criminal justice.
"Dual credit students typically take English, history, government, psychology and sociology. This past year we introduced American Music and Intro to Theatre classes. They are options for them to get a creative arts credit that they need for a bachelor's degree and satisfy high school fine arts requirements," said Jones.
Another option for high school students is Collegiate High School, which allows students to take all academic classes at COM campus but complete extracurricular activities at their high school.
"We have around 22 students in COM Collegiate High School. It's a fantastic opportunity for our students – many are first-generation college students," said Goodman. "One in particular was Maria Henriquez, who was accepted to the Texas High School Aerospace Scholars Program. She is one student for whom it made a difference."
For more information on COM Dual Credit Program, visit www.com.edu/dual-credit.