Theater Director Receives Houston Press Theatre Award
Aug 30, 2019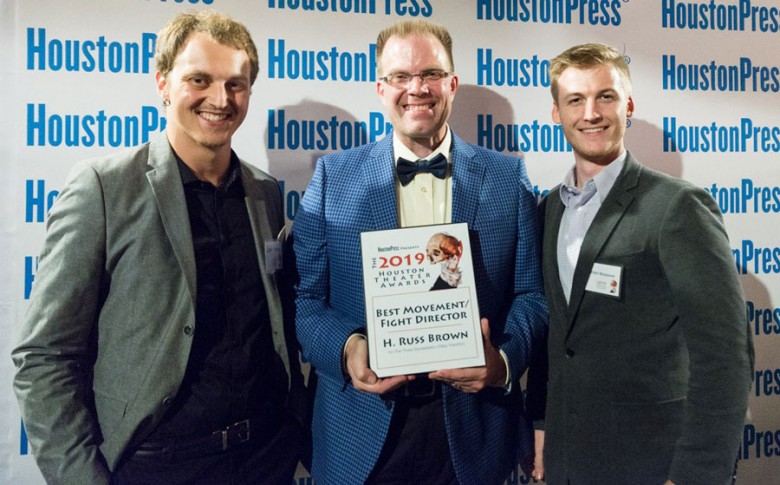 H. Russ Brown, Head of Theatre/Artistic Director at College of the Mainland was recently honored as Best Fight Director in the 2019 Houston Press Theatre Awards for his fight choreography on the Alley Theatre's recent hit production of The Three Musketeers.
In announcing the award, the Houston Press said "Of course, we expected sword fights in the Alley Theatre's production of The Three Musketeers, but no one was prepared for how darn thrilling they were. Challenging for the actors, complex in style, H. Russ Brown's fight direction looked dangerous and beautiful all at the same time. A kind of potentially deadly sword ballet. Often involving several participants and choreographed to the second, Brown's sequences were a workout for not only the actors, but the audience as well, our hearts thumping wildly with every en garde and our applause exploding as each battle came to an end."
H. Russ Brown is a nationally recognized and award-winning theatre artist/educator who has worked at theatres, colleges and universities across the country for the past 30 years. He holds an Master of Fine Arts degree in acting from Western Illinois University and is a Certified Teacher with the Society of American Fight Directors. His areas of expertise are acting, directing, voice/dialects, stage movement, playwriting, children's theatre and stage combat.
His former students have gone on to perform in numerous Broadway productions, the movie/television industry and in performance venues across the globe. Brown continues the tradition of professional excellence on the COM Community Theatre stage.