PTK Says Thanks to Maintenance and Facilities Staff
Mar 28, 2019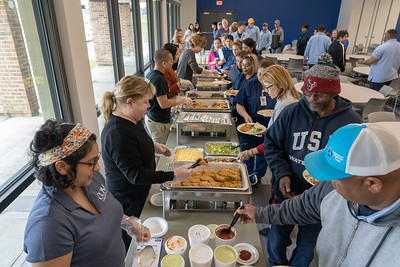 Members of Phi Theta Kappa honor society paid it forward on March 1 when they hosted a "Serving Those Who Serve Us" luncheon to recognize the maintenance and facilities staff at College of the Mainland.
The students served lunch to about 50 staffers in the COM Conference Center.
"Serving Those Who Serve Us is a tradition that began three years ago," PTK President Autumn Dilissio said. "The intention was to show appreciation to the maintenance and facility employees whose hard work may seem to go unnoticed on our campus."
Dilissio said the best part of the luncheon was getting to spend time with the staff and "allowing them to be on the receiving end as students serve their meals and do the cleaning up. You will find that the maintenance department engages students on campus by helping them find their classroom or befriending them and asking about their coursework or how they are doing as they complete their time at COM."
Phi Theta Kappa is an honor society the recognizes academic achievement of community college students. To be eligible for membership, students must have a grade point average of 3.5 or above and have at least 12 college credit hours.