Three COM Trustees Attend Their Last Board Meeting
May 1, 2019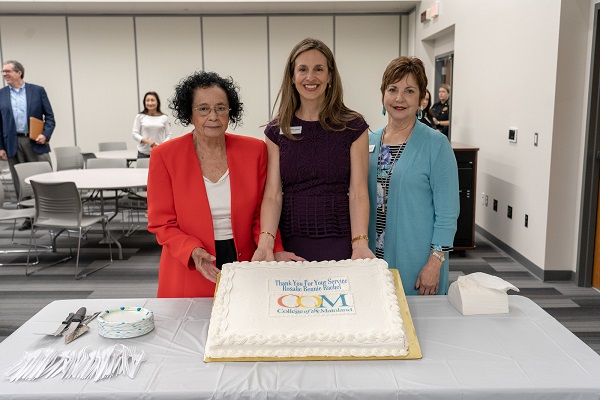 Three College of the Mainland Board of Trustee members said their good-byes at the April 29 meeting.
The three – Rachel Delgado, Rosalie Kettler and Bennie Matthews – all chose not to seek re-election.
During the meeting held at the COM Conference Center, the three were presented with outgoing gifts of personalized fountain pens. Staff, faculty and students also joined in a reception following the meeting.
Kettler, the board secretary, served on the board for 12 years. Her position represents the Dickinson area.
Delgado served as an at-large member on the board for six years.
Matthews served on the board for 36 years. During her tenure, she served as chairman, vice chairman, secretary and head of the human resources committee.
Following the board meeting, board members, students, staff, faculty and community members gathered at the Student Center for a grand opening of the renovated building and the dedication of the Bennie Matthews Commons.
An election to determine the new trustees is slated for Saturday, May 4.
To view photos from the April 29 Board of Trustees meeting, go to: https://commarketing.smugmug.com/News/BOT/04-2019-BOT/. The photos were taken by COM photographer Scott Turnbough.