Robles Named COM Scholar
May 16, 2019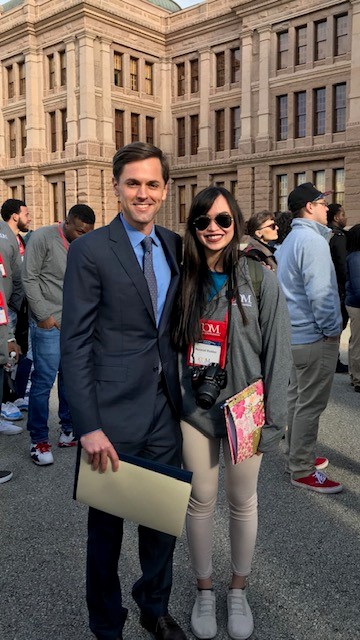 Rosecel Robles will graduate from College of the Mainland on Saturday as only the second student in school history to be designated a COM Scholar.
The COM Scholar distinction was not something Robles ever considered possible when she immigrated to the United States from the Philippines at age 16. Four years later, not only is she a COM Scholar but also the first person in her family to graduate from college.
Robles will be recognized at commencement and receive a $250 honorarium from the COM Foundation and an additional $250 given anonymously by a COM Board of Trustee member.
By being a COM Scholar, Robles maintained a 3.5 GPA, earned 12 honors credits in Texas government, criminal justice, philosophy and drama and completed a minimum of 18 credit hours plus performed 24 hours of community service. In 2016, Drager Landry of Hitchcock was recognized as the first COM Scholar.
Since Robles already had graduated from high school in the Philippines, she was not allowed to enroll at La Marque High School when her family moved to Texas in 2016. Instead, she enrolled at College of the Mainland to obtain her Texas Certificate of High School Equivalency. Since then she has tutored other students who are enrolled in the COM Adult Education Department in math, English and social studies.
"I had the experience firsthand as to how challenging it is to pass GED," said Robles, who turns 21 in June. For this reason, I decided to become a tutor to help since I learned best through my fellow classmates. I enjoy interacting and teaching my fellow students. I especially love the part when I see them succeed. It is heart-warming to hear them so excited and motivated for the future."
Robles credits her professors, especially government professor Shinya Wakao, for her success at COM.
"Professor Wakao motivated me in pushing myself and he was one of the reasons I became involved on campus," said Robles, who is graduating with a criminal justice degree. "In 2017, I was working full time which had caused a significant drop in my GPA. I have been paying for my school out of pocket, so I realized something had to change. Professor Wakao believed that I can do it and I saw it as an opportunity to prove not only to myself and my parents, but also to him--that I can. "
And she did.
Robles was hired recently to work part-time at COM's Adult Education Department as a Distance Learning Specialist. She also works 15-16 hours on weekends as a server at the Rainforest Cafe in Galveston.
Robles said she spent two years in Mississippi when he father's job had the family relocate temporarily. She attended junior high there.
"Afterwards, in 2012, I had to come back to the Philippines to be with my mother while her papers were being processed," she said. "The school program in the Philippines was quite different from here back then, thus I graduated high school at 16 years old. Right after I graduated high school, my mom and I came here in Texas for the first time."
"My dad transferred to the American branch of his company with the hopes of a better future for me and my siblings. I believe my dad did not have a choice which state he could reside in, but we grew to love Texas," she said.
Robles was recently recognized as Student Leader of the Year by the Student Government Association. She also is an officer in the COM Fit Club and the Vision Seekers Club. She also placed fourth during this year's Gulf Coast Intercollegiate Consortium Academic Symposium with her presentation of Awareness of Living.
Her plan moving forward is to enroll at the University of Houston and ultimately become a family lawyer.