COM Lifelong Learning Center Students Earn Art Show Awards
Apr 16, 2019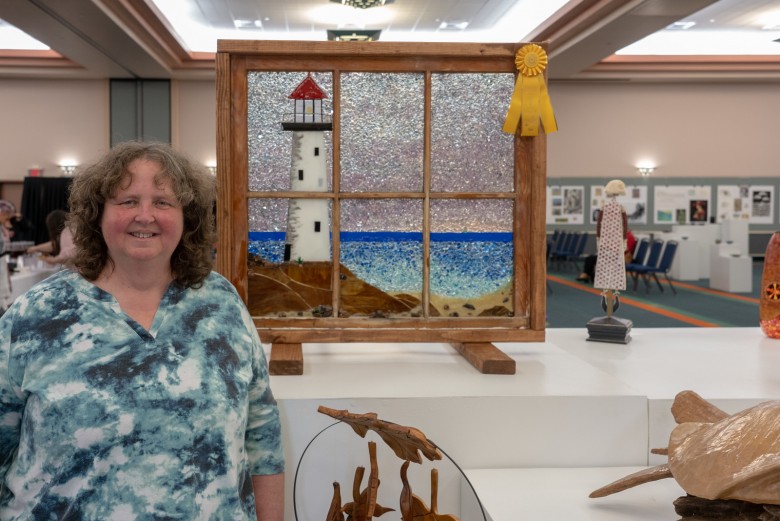 Students from College of the Mainland's Lifelong Learning Center walked away with awards for their remarkable art work during the 20th Annual Texas City Art Festival.
The Art Show, which runs through Thursday, April 18 at the Doyle Convention Center in Texas City, featured a stunning display created by Beth Hoff entitled, Window with a View, which was named Best of Show-Mixed for the overall Art Show. (Please see photos of the art displaysand winners at the link provided below.)
The People's Choice Award went to Allison Louis for her paper maché entry, Pissaro, and Donna Fakes placed third for her stained glass entry, Gallic Rooster, in the Not Under Glass Category.
David Wheeler, an instructor at the Lifelong Learning Center, was one of the featured artists. Wheeler teaches beginning and advanced oil painting.
Entries from the Lifelong Learning Center students garnered a comment from a judge, "Congratulations to all who entered the show. The Lifelong Learning Exhibit reflects a good use of color and composition making the display of work aesthetically strong."
Classes offered at the Lifelong Learning Center involve all types of art, including acrylic, oil, watercolor and portrait painting. Also offered are classes in beading, Brazilian embroidery, collage and mixed media, drawing, fused and stained glass, mosaics, origami, painting on silk, paper maché, photography, woodworking, sewing and quilting.
This year, Karen Spurlock was named Best of Show for her whimsically hanging exhibit entitled, Air, Land, and Sea. The display featured a bird, rabbit and fish.
Other winners among Lifelong Learning Center participants were:
Photography
1st Nancy Schrull, Contemplating
2nd Chris Torres, Preening Pelican
3rd Mary Ann Elliott, Pink Lady
Glass
1st Sheila Baimbridge, Evening Dance
2nd Bebe Church, Under the Sea
3rd Beth Hoff, Blue Wave
Under Glass
1st Alex Camacho, Intro to the World of Art
2nd Nancy O'Dowd, Cool Runnings
3rd Sharon Stephens, Boscoe
Not Under Glass
1st Mary Ann Hillegeist, Peaceful Meadow
2nd Charles Surface, San Jose Queen of Missions
3rd James Nagel, Pirogue
Three-Dimensional
1st Connie Butler, A Fungus Amongus
2nd Karen Spurlock, Mrs. Bucket
3rd Beth Hoff, Koi Pond
Beading/Jewelry
1st Rhonda Wilcox, Asheral "She who walks in the Sea"
Honorable Mention
Debby Brady, Am I Blue
Juan Castro, Catching Bait
Mary Ann Hillegeist, Santa Fe Garden
Andrew Jones, Light House and Sailboat
Jim Malm, Street Music
Barbara Markey, Waiting
Doris Nidiffer, Sorrow
Johnny Pace, Oceana
Pam Preston, The Chute Lady
Paula Scroggins, The Strand & Cowboy Up
Susan Smith, Tequila Sunrise
Irene Stone, Beach Finds
Elisa Tong, Lovers in Flight & Rising Sun
Deborah Valusek, Watermelon Slice
Rhonda Wilcox, Riding the Wave
To view photos taken by Scott Turnbough from the 20th Annual Texas City Art Festival, click on the following link:
https://commarketing.smugmug.com/Departments/Lifelong-Learning/Art-Walk/2019/