Grand Opening Held for Renovated Student Center; Dedication of Bennie Matthews Commons
Apr 29, 2019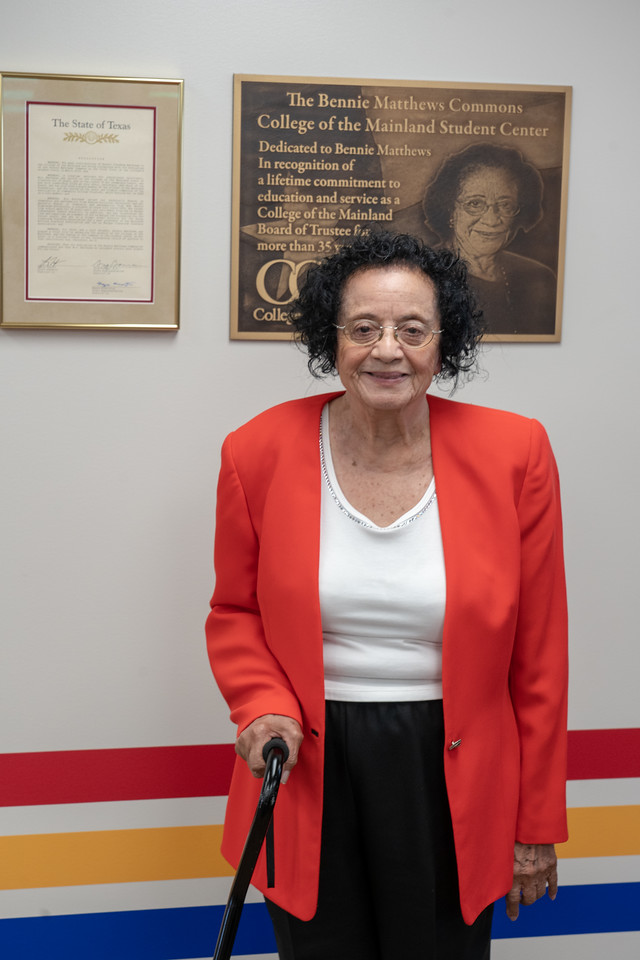 College of the Mainland held a grand opening for its renovated Student Center on Monday, April 29 and also dedicated the first floor of the building in honor of longtime Trustee Bennie Matthews.
"We have some long-time employees at this college but I don't think anyone has a longer tenure than Mrs. Matthews," Dr. Warren Nichols, president of College of the Mainland, said. "She has given so much to this college, the students, staff and faculty since she was first elected to the Board of Trustees 36 years ago."
More than 200 community members were in attendance for the grand opening and dedication.
Following a ribbon cutting ceremony involving the seven area Chambers of Commerce, Monday's festivities focused on Matthews, who has served on the COM Board of Trustees since first elected in 1983. She has chosen not to run for re-election.
Matthews was recognized with proclamations and resolutions from U.S. Rep. Randy Weber, State Sen. Larry Taylor, State Reps. Mayes Middleton and Dr. Greg Bonnen, Galveston County Commissioner's Court as well as the cities of Texas City and La Marque.
A beam across the commons area was unveiled with "Bennie Matthews Commons" written in large letters. A plaque with Matthews likeness also was unveiled.
The Student Center underwent a complete makeover over the last year with new insulation and exterior walls, new flooring and furniture. The renovated building includes a terrace overlooking the lake on campus plus a canopy and sunlight screens to shade the area and existing glass wall.
The Bennie Matthews Commons is fitted with modern and colorful lounge chairs as well as tables and chairs. The center also is equipped with a Fresh Brew Market where students and guests can purchase prepared sandwiches, salads, snacks and drinks. The market replaced a dormant cafeteria.
The two-story Student Center was renovated as part of the college's $16.2 million maintenance project that also saw the transformation of the long-shuttered indoor swimming pool into a conference center, created a new chemistry lab and replaced aging underground piping among other projects.
The Student Center officially opened to students on April 9 – the first day of registration for summer and fall classes. The center also is the temporary home for many student services offices after the adjacent administration building was flooded in September.
Part of the $162.5 million bond referendum approved by voters in November called for the construction of a new Enrollment and Administration Building and tear down the existing Administration Building. The original plan was for the new enrollment and administration building be the third of three new buildings constructed on campus.
After the flooding, however, administrators decided not to make improvements and refurbish the flooded building that was slated to be demolished. Instead, the decision was made to move up the construction of the new Enrollment and Administration building. Employees housed in the Administration Building have now moved into the Student Center until the new building is completed in 2021.
Monday's ceremony focused on Matthews and her many contributions to the college.
"We are here today to honor Mrs. Matthews and thank her for her many years of dedication to this institution. She has been a forward thinker, innovator and all-around champion of education," Nichols said.
Matthews, who has served as chairman, vice chairman, secretary and the chair of the human resources committee, during her tenure on the COM board taught school for 42 years in La Grange and La Marque. Her assignments in La Grange included teaching algebra, geometry, physical science and physics plus band, tennis, and girls' basketball. In La Marque, Matthews taught mathematics and computer science at the former Lincoln High School and then La Marque High School.
A graduate of Samuel Huston College, now called Huston-Tillotson College in Austin, Matthews studied science and mathematics. She became a member of the local branch of the NAACP where she was a charter member and first secretary of the Texas Youth Division.
As a National Science Foundation awardee and Shell Merit Fellow, she studied at New Mexico Highlands and Stanford University. She received a Master of Science in chemistry, physics and mathematics. She also took advanced math and science courses at Lake Forest College, The University of Texas and Northern Illinois University as a National Science awardee.
To view photos taken by COM photographer Scott Turnbough, click on the following link: https://commarketing.smugmug.com/Events-/Matthews-Dedication/