Campus Police
The COM Police Department provides security for College facilities and assistance to students, visitors, faculty and staff 24 hours a day, seven days a week. COM Police Department officers regularly patrol campus parking lots.
Nonemergencies
Dial 8403 from any phone on campus.
Emergencies
Dial 599 from any phone on campus.
Daily Crime Log
---
Campus Police Policies and Forms
College of the Mainland Racial Profiling Policy
College of the Mainland Police Department Complaint Form
About the Department
The police officers of the College of the Mainland function under the authority of the Texas Code of Criminal Procedures, Texas Penal Code and the Texas Education Code with jurisdiction in any county where COM owns or controls property or may operate.
While the College strives to protect vehicles and private property when on its property, the College assumes no responsibility for care or protection of any vehicle or its contents at any time it is operated or parked on the College campus.
The use or operation of a motor vehicle on COM property is subject to the laws and regulations of the state of Texas and the policies of College of the Mainland.
Department Roster
The COM Police Department is comprised of nine full-time officers and five part-time officers.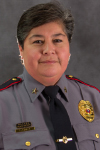 Sylvia Chapa
Chief of Police