Nichols Gives State of Education Address
Apr 8, 2019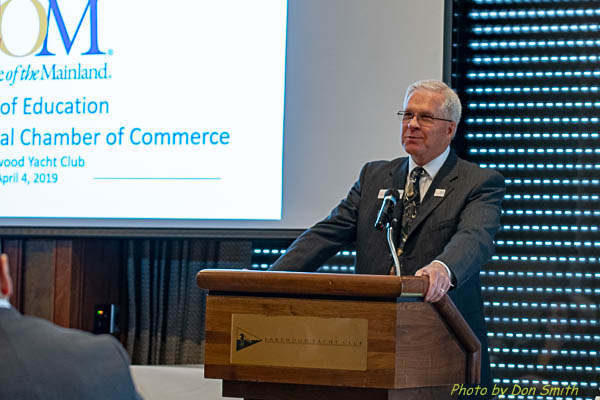 College of the Mainland President Dr. Warren Nichols was one of three guest speakers at the annual State of Education breakfast hosted by the League City Regional Chamber of Commerce on April 4.
Nichols gave an overall view of COM from student enrollment to new buildings.
COM, he said, has seen a 19 percent increase in enrollment over the past few years and the college also has seen an improvement in the number of minority students enrolled.
"Diversity has increased over the past 10 years with the overall minority percentage moving from 47 percent in 2010 to 54 percent in 2019," he told those gathered at the Lakewood Yacht Club in Seabrook. "Hispanics in particular have become more represented, moving from 19 percent in 2010 to 31 percent in 2019."
When it comes to preparing students to transfer to a four-year university, Nichols said COM continues to participate in regional and statewide guided pathways initiatives that includes program mapping, onboarding, assessment, high school alignment, academic support and advising.
Nichols also shared artist renderings for a new STEAM/Allied Health Building and Student Success Center.
Also participating in the breakfast were Dr. Brenda Hellyer, Chancellor - San Jacinto College, and Dr. Steven Berberich, Provost - University of Houston/Clear Lake.