COM debuts radio theatre with spooky hits
Nov 29, 2016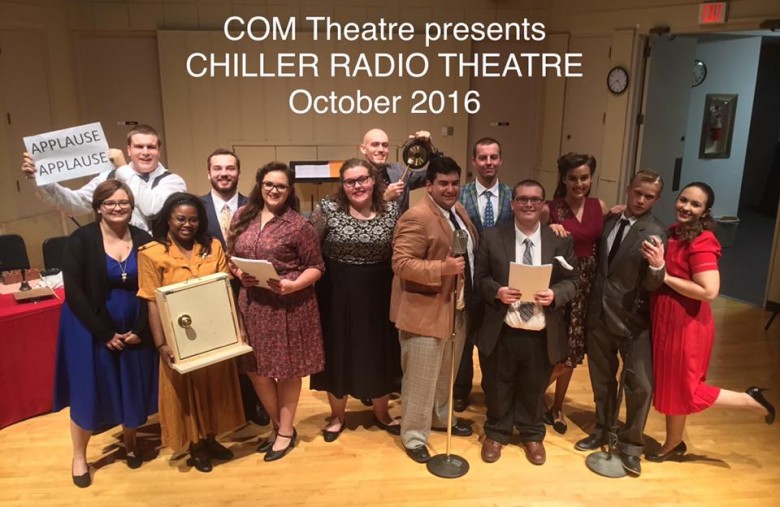 The echoes of 13 ominous chimes, howling wolves and screeching winds form the chilling backdrop to College of the Mainland students' latest production: Chiller Radio Theatre.
While students provided the crashes of slammed doors and clangs of dragged chains, students dressed in 1940s attire performed four short radio thrillers from radio's heyday.
Hunter Morris, a theatre major from Santa Fe, played Lafersky in "Slurp! Goes the Amoeba," a radio play by Wyllis Cooper about a science experiment gone wrong, and voiced the Hermit in "The House of Purple Shadows," a tale of a man turned invisible.
"My favorite was the Hermit. I was able to make my voice sound a little like a mixture of the Crypt Keeper from 'Tales from the Crypt' and Mark Hamill's Joker. Since I love both characters so much it was really fun to try and combine them into one voice," said Morris. "H. was an amazing instructor, always pushing us to keep going more and more ridiculous with how we spoke. I learned how to emphasize specific emotions and to stress the intensity of a scene by escalating and stretching certain words."
Isabella Delgado, a theatre major from Texas City, played the Boa Goddess from Alonzo Deen Cole's radio play of the same name.
"The trick is using your voice to reflect emotion that you normally use your face to express," said Delgado. "My challenge was to use a normal voice and gradually transition to scarier tone and to elongate the S's because I'm a snake."
Brown plans to direct two live radio plays each semester for audiences at COM and at local schools and community centers.
"The audience will experience the live radio plays as though they were someone sitting in a radio studio audience in the 1930s or 40s," said artistic director H. Russ Brown. "It's a ton of fun and amazing voice actor training."
Continuing their success, the COM theatre majors will perform the radio play version of "It's a Wonderful Life" on Dec. 15 in the COM Fine Arts Building at 7 p.m.
The price of admission will be one unwrapped toy which will be donated to the local Toys for Tots Program.
The COM Theatre Program prepares students for the stage through small classes with nationally recognized faculty, stage combat training and opportunities to perform in COM Community Theatre productions. The comprehensive Associate of Arts degree program is designed to prepare students to work toward a Bachelor of Arts or Bachelor of Fine Arts in theatre.
For more information, contact Brown at hrussbrown@com.edu or 409-933-8544 or visit www.com.edu/theatre.