Community Theatre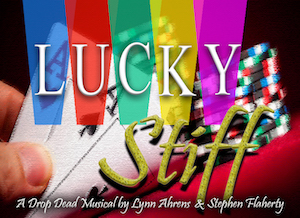 Lucky Stiff
Jan. 25 – Feb. 11, 2018
Tickets go on sale: Nov. 21, 2017
Book and Lyrics by Lynn Ahrens, Music by Stephen Flaherty
"Lucky Stiff" is an offbeat, hilarious musical murder mystery, complete with mistaken identities, six million bucks in diamonds and a corpse in a wheelchair. The story revolves around an unassuming English shoe salesman who is forced to take the embalmed body of his recently murdered uncle on a vacation to Monte Carlo. Should he succeed in passing his uncle off as alive, Harry Witherspoon stands to inherit $6,000,000. If not, the money goes to the Universal Dog Home of Brooklyn ... or his uncle's gun-toting, mob-connected ex-girlfriend. Featuring a tuneful Flaherty and Ahrens score, an ensemble cast of zany characters, "Lucky Stiff" is sure to charm and delight!
2017-2018 Season
The COM Community Theatre announces the upcoming 2017-2018 season:
"Talley's Folly" by Lanford Wilson
"Eurydice" by Sarah Ruhl
"Lucky Stiff" book and lyrics by Lynn Ahrens, music by Stephen Flaherty
"Of Mice and Men" by John Steinbeck
"God's Man in Texas" by David Rambo
"Cry-Baby" book by Thomas Meehan & Mark O'Donnell, music and lyrics by Adam Schlesinger & David Javerbaum
View the 2017-2018 Season Brochure
View the 2017-2018 Season Brochure.
---
Theatre Box Office
Call the Box Office at 409-933-8345 or 1-888-258-8859, ext. 8345.
Since 1972, COM Community Theatre has presented over 228 productions including children's theatre, concerts and workshops with attendance of more than a quarter of a million people. The theatre has been recognized as one of America's leading community theatres, setting high production standards and developing one of this country's most innovative programs.
Beyond education, the College of the Mainland Theatre bears a three-fold commitment: to provide quality theatrical experiences for residents of the area, to offer a forum for local and regional talent by holding open auditions and to extend the reputation of College of the Mainland.
---