Community Theatre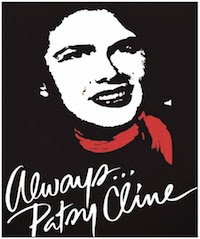 Always ... Patsy Cline
Jan. 29 – Feb. 15, 2015
Tickets go on sale Nov. 25, 2014
by Ted Swindley
Back by popular demand, COM Community Theatre's biggest box-office success returns to thrill audiences with the glorious sounds of Patsy Cline's remarkable music, as remembered by her "Number 1 Fan." Featuring over two dozen songs including "Crazy," "Walkin' After Midnight," "Sweet Dreams," "She's Got You," "I Fall to Pieces" and many, many more.
---
Open Audtions – The Last Night of Ballyhoo
Sunday, Feb. 8 at 7 p.m.
Monday, Feb. 9 at 7 p.m.
About the Play
"The Last Night of Ballyhoo" takes place in Atlanta, Georgia, in December of 1939. Gone with the Wind is having its world premiere and Hitler is invading Poland, but Atlanta's elitist German Jews are much more concerned with who is going to Ballyhoo, the social event of the season. Especially concerned is the Freitag family: bachelor Adolph, his widowed sister, Beulah (Boo) Levy, and their also widowed sister-in-law, Reba. Boo is determined to have her awkward, unpopular daughter, Lala, attend Ballyhoo, believing it will be Lala's last chance to find a socially acceptable husband. learn more
About the Auditions
We will do cold readings from the script; no monologue required. All listed ages are approximate not hard cutoffs. Except as noted, the characters speak with gentrified southern accents a la Gone with the Wind.
---
Front Row Newsletter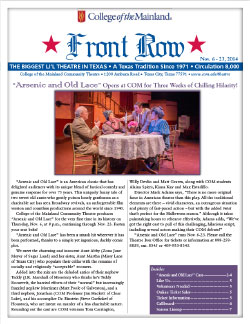 Download Front Row Newsletter.
If you would like to be on the email list to receive our newsletter "Front Row," please email sgilbert@com.edu.
---
Theatre Box Office
Call the Box Office at 409-933-8345 or 1-888-258-8859, ext. 8345.
Since 1972, COM Community Theatre has presented over 228 presentations including children's theatre, concerts and workshops with attendance of more than a quarter of a million people. The theater has been recognized as one of America's leading community theaters, setting high production standards and developing one of this country's most innovative programs.
Beyond education, the College of the Mainland Theatre bears a three-fold commitment: to provide quality theatrical experiences for residents of the area, to offer a forum for local and regional talent by holding open auditions and to extend the reputation of College of the Mainland.
---
2014-2015 Season
The COM Community Theatre announces the upcoming 2014-2015 season:
"9 to 5: The Musical," music and lyrics by Dolly Parton, book by Patricia Resnick
"Greater Tuna" by Sears, Jaston Williams and Ed Howard
"Arsenic and Old Lace" by Joseph Kesselring
"Always ... Patsy Cline" by Ted Swindley
"The Last Night of Ballyhoo" by Alfred Uhry
"The Drawer Boy" by Michael Healey
"Women on the Verge of a Nervous Breakdown" film by Pedro Almodovar, music and lyrics by David Yazbek, book by Jeffrey Lane
For a schedule and description of each production, continue reading or view the 2014-2015 Season Brochure.