Community Theatre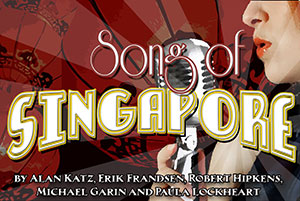 Song of Singapore – The Swing Musical
July 13–30, 2017
by Alan Katz, Erik Frandsen, Robert Hipkens, Michael Garin and Paula Lockheart
With the off-Broadway popularity of this zany recreation of a seedy bar in Singapore, circa 1941, swing jazz music and comedy musical theatre has truly come of age. Audience members are whisked away to those heady days when the band played on while the Japanese invaders approached. The story is a wacky parody of old movies full of intrigue: fishy stolen jewels, a torch singer whose lost memory holds the key to one of the century's greatest mysteries, a sinister dragon lady, corrupt police and nonstop funny business. Throughout, the music is a hot parade of 40s parodies and pastiches (Andrews Sisters close-harmony, scat, swing, gospel) with just enough of an original twist to deliver a hilarious comic punch!
---
Front Row Newsletter – The Drowsy Chaperone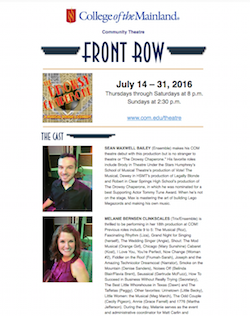 ---
Theatre Box Office
Call the Box Office at 409-933-8345 or 1-888-258-8859, ext. 8345.
Since 1972, COM Community Theatre has presented over 228 productions including children's theatre, concerts and workshops with attendance of more than a quarter of a million people. The theatre has been recognized as one of America's leading community theatres, setting high production standards and developing one of this country's most innovative programs.
Beyond education, the College of the Mainland Theatre bears a three-fold commitment: to provide quality theatrical experiences for residents of the area, to offer a forum for local and regional talent by holding open auditions and to extend the reputation of College of the Mainland.
---
2016-2017 Season
The COM Community Theatre announces the upcoming 2016-2017 season:
"Crimes of the Heart" by Beth Henley
"COM Wasn't Built in a Day" by H. Russ Brown
"Lost In Yonkers" by Neil Simon
"Moon Over Buffalo" by Ken Ludwig
"Red" by John Logan
"Song of Singapore" by Alan Katz, Erik Frandsen, Robert Hipkens, Michael Garin and Paula Lockheart
View the 2016-2017 Season Brochure.
View the 2017-2018 Season Brochure.