Community Theatre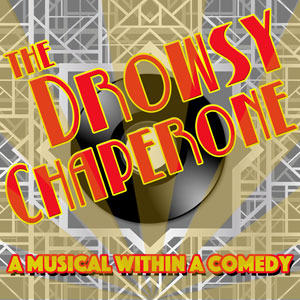 The Drowsy Chaperone
July 14-31, 2016
Music & Lyrics by Lisa Lambert & Greg Morrison
Book by Bob Martin & Don McKellar
"The Drowsy Chaperone" revolves around one musical theater fan's obsession with a fictional 1928 musical comedy and is a unique combination of the past and present that celebrates musical theater.
When a die-hard musical theater fan plays his favorite cast album, the musical magically bursts to life. We are immersed in the hilarious tale of a glamorous bride and her uproarious wedding day, complete with thrills and surprises that take both the cast (literally) and the audience (metaphorically) soaring into the heavens. "The Drowsy Chaperone" is one of the funniest musicals ever written. It is a hysterical send-up of the Astaire and Rogers films of the 1930's, filled with top hats, gangsters, starlets, Prohibition martinis and … love.
---
Front Row Newsletter – Bleacher Bums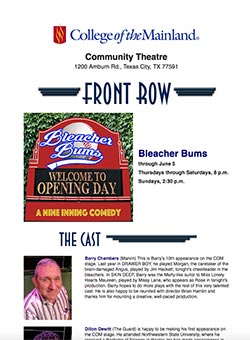 Never miss an issue. Subscribe to our Newsletter
---
Theatre Box Office
Call the Box Office at 409-933-8345 or 1-888-258-8859, ext. 8345.
Since 1972, COM Community Theatre has presented over 228 productions including children's theatre, concerts and workshops with attendance of more than a quarter of a million people. The theatre has been recognized as one of America's leading community theatres, setting high production standards and developing one of this country's most innovative programs.
Beyond education, the College of the Mainland Theatre bears a three-fold commitment: to provide quality theatrical experiences for residents of the area, to offer a forum for local and regional talent by holding open auditions and to extend the reputation of College of the Mainland.
---
Shows Remaining on the 2015-2016 Season
"The Drowsy Chaperone" Music & Lyrics by Lisa Lambert & Greg Morrison Book by Bob Martin & Don McKellar
For a schedule and description of each production view the 2015-2016 Season Brochure.
---
2016-2017 Season
The COM Community Theatre announces the upcoming 2016-2017 season:
"Crimes of the Heart" by Beth Henley
"COM Wasn't Built in a Day" by H. Russ Brown
"Lost In Yonkers" by Neil Simon
"Moon Over Buffalo" by Ken Ludwig
"Red" by John Logan
"Song of Singapore" by Alan Katz, Erik Frandsen, Robert Hipkens, Michael Garin and Paula Lockheart