Community Theatre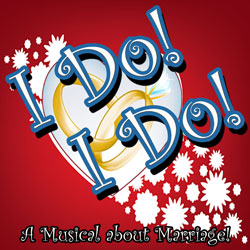 I Do! I Do!
July 16 – Aug. 2, 2015
Tickets go on sale June 9, 2015
Books & Lyrics by Tom Jones
Music by Harvey Schmidt
(Based on "The FOURPOSTER" by Jan de Hartog)
The story follows newlyweds Michael and Agnes starting on their wedding day and explores their life together over the next 50 years until they finally sell their home to the next pair of newlyweds. During that time, the couple goes through their wedding night jitters, raises a family, negotiates mid-life crises, quarrels, separates, reconciles and grows old together, all lovingly to the strains of a tuneful, charming score.
---
Frontrow Newsletter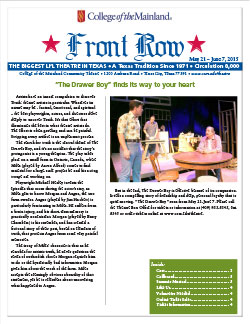 If you would like to be on the email list to receive our newsletter "Front Row," please email sgilbert@com.edu.
---
Theatre Box Office
Call the Box Office at 409-933-8345 or 1-888-258-8859, ext. 8345.
Since 1972, COM Community Theatre has presented over 228 presentations including children's theatre, concerts and workshops with attendance of more than a quarter of a million people. The theater has been recognized as one of America's leading community theaters, setting high production standards and developing one of this country's most innovative programs.
Beyond education, the College of the Mainland Theatre bears a three-fold commitment: to provide quality theatrical experiences for residents of the area, to offer a forum for local and regional talent by holding open auditions and to extend the reputation of College of the Mainland.
---
2014-2015 Season
The COM Community Theatre announces the upcoming 2014-2015 season:
"9 to 5: The Musical," music and lyrics by Dolly Parton, book by Patricia Resnick
"Greater Tuna" by Sears, Jaston Williams and Ed Howard
"Arsenic and Old Lace" by Joseph Kesselring
"Always ... Patsy Cline" by Ted Swindley
"The Last Night of Ballyhoo" by Alfred Uhry
"The Drawer Boy" by Michael Healey
"Sweeney Todd" music and lyrics by Stephen Sondheim
For a schedule and description of each production, continue reading or view the 2014-2015 Season Brochure.