Community Theatre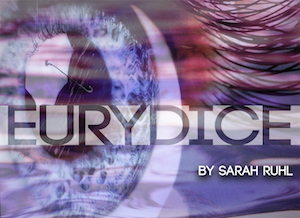 Eurydice
Nov. 2–19, 2017
Tickets go on sale: Sept. 26, 2017
by Sarah Ruhl / 2003 recipient of the Whiting Award for Drama
On her wedding day Eurydice falls victim to a tragic accident that sends her hurtling on a journey into a wonderland of an underworld. Awakening in a strange new world, she reunites with her father and struggles to remember her lost love. Orpheus journeys to retrieve his bride, but Eurydice has begun to discover that the cost of living can sometimes exceed the cost of staying dead. With contemporary characters, ingenious plot twists and breathtaking visual effects, the play is a fresh look at a timeless love story.
2017-2018 Season
The COM Community Theatre announces the upcoming 2017-2018 season:
"Talley's Folly" by Lanford Wilson
"Eurydice" by Sarah Ruhl
"Lucky Stiff" book and lyrics by Lynn Ahrens, music by Stephen Flaherty
"Of Mice and Men" by John Steinbeck
"God's Man in Texas" by David Rambo
"Cry-Baby" book by Thomas Meehan & Mark O'Donnell, music and lyrics by Adam Schlesinger & David Javerbaum
View the 2017-2018 Season Brochure
View the 2017-2018 Season Brochure.
---
Theatre Box Office
Call the Box Office at 409-933-8345 or 1-888-258-8859, ext. 8345.
Since 1972, COM Community Theatre has presented over 228 productions including children's theatre, concerts and workshops with attendance of more than a quarter of a million people. The theatre has been recognized as one of America's leading community theatres, setting high production standards and developing one of this country's most innovative programs.
Beyond education, the College of the Mainland Theatre bears a three-fold commitment: to provide quality theatrical experiences for residents of the area, to offer a forum for local and regional talent by holding open auditions and to extend the reputation of College of the Mainland.
---