Students display ceramics and more at COM Art Gallery
Nov 15, 2016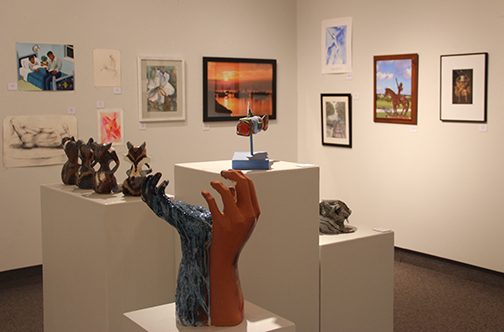 Neon watercolors, shimmering ceramics, mixed media collages and more take center stage in the 2016 Student Art Exhibition on display now through Nov. 30 at the College of the Mainland Art Gallery.
The reception and best in show award announcements will be held Nov. 17 from 6-7 p.m. in the COM Art Gallery.
Students enrolled in any COM class in 2016 submitted their best 2-D or 3-D art. Alexander Squier, exhibitions coordinator at Houston Community College-Central Art Gallery, juried the exhibit.
"The juried art show celebrates the excellence in creativity among the College of the Mainland students," said COM Art Gallery Director Mayuko Ono Gray.
Committed to making contemporary artwork accessible, the COM Art Gallery is free and open to the public. Exhibits are created and coordinated with speakers and other events to promote the area's richly diverse ethnic and socioeconomic backgrounds.
Professional artists shown at the gallery have been accredited and recognized by the art community. The Museum of Fine Arts, Houston, has included the College of the Mainland Art Gallery in their list of recommended venues for the presentation of fine art.
The gallery is located in the Fine Arts Building and open Monday through Thursday, 10 a.m. to 4 p.m., and by appointment.
For more information, contact 409-933-8354 or 409-933-8348 or visit www.com.edu/gallery.