From Galveston to outer space, artworks of alum on display
Nov 7, 2016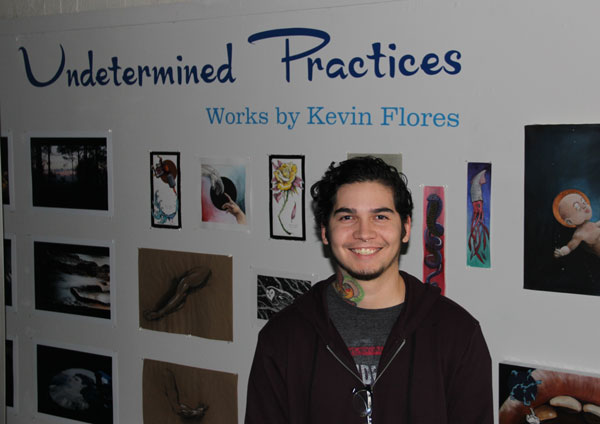 The faint light illuminating the night glints off the rocks guarding Galveston Bay in one of Kevin Flores' photographs.
It's one of the works on display in Kevin Flores' exhibit "Undetermined Practices" in the J. Palmer Exhibition Space at the COM Fine Arts Building.
After attending COM, Flores transferred to the University of Houston main campus to study art further.
"I feel like the preparation at COM was more than enough to get me in. All of my courses transferred," said Flores. "I told [art professor] Mark Greenwalt I was serious about art and he pushed me."
Flores combines tattoo designs, drawings, acrylic paintings and photographs in the display showcasing his versatility.
In a painting reminiscent of Michelangelo's "Creation of Adam," an astronaut's gloved hand reaches for man's.
"I was trying to hint at the debate between science and religion," said Flores.
Students can take COM art courses as credit courses in preparation for a university or as continuing education for personal enrichment.
The College of the Mainland Art Gallery serves as a resource for the study of art and art history and presents works demonstrating contemporary standards of quality. Committed to making contemporary artwork accessible, the gallery is free and open to the public. Exhibits are created and coordinated with speakers and other events to promote the area's richly diverse ethnic and socioeconomic backgrounds.
For more information, please contact 409-933-8354 or 409-933-8348 or visit http://www.com.edu/gallery.