In conversations and games students learn English
Oct 18, 2016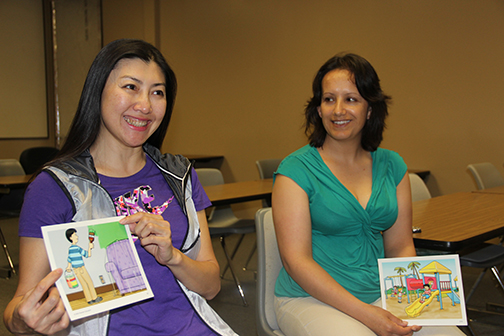 Lucero Garcia wants to be a flight attendant in her home of Mexico. JiaYin Liu, originally from China, aims to return to college, perhaps for another degree. Both are community members who have come to College of the Mainland to practice English in classes and free workshops.
Representing the nations, students come once a week to converse, read and play games as part of the Conversational English workshop offered by the Speaking, Reading and Writing Center.
"I love this class," said JiaYin Liu, who moved to League City from China with her husband and has a degree in Chinese. "The teacher is very patient and friendly. Their pronunciation is so beautiful."
Individuals – and sometimes their friends or other community members – in COM's English as a second language classes come each week as their schedules allow to practice conversations.
"I like it because everybody speaks in English. I learn more words that I didn't know," said student Maria Morales.
Students sometimes describe pictures using as many adjectives as possible or play guessing games.
"We play 'alibi,' where we divide them in pairs and they figure out an alibi they have after we accuse them of a 'crime,'" explained COM professional tutor Diana North. "We do scenarios, what to do at restaurants, what to do at a bank, or what to do situations anyone would encounter if they were in another country."
Mostly, they talk.
"I come here to learn English. I understood none and now I can understand a little," said Garcia.
The classes, begun fall 2015, supplement COM's free English as a second language courses offered to Galveston County residents each fall and spring.
Students can also find support at the COM Speaking, Reading and Writing Center, where they can make an appointment for one-on-one conversation practice with a tutor.
"We go over whatever they want to cover. A student might bring a book to read aloud and have their pronunciation corrected. Every situation, every session, every student is different," said supervisor and professional tutor Lisa Hacker, adding that she met with Garcia to help her learn the English she'd need as a flight attendant.
"We did some role-play where I was the passenger and she could be the flight attendant," said Hacker. "Conversations are so important. It gives them another way to be connected."
Fall Conversational Workshops are every Friday from 9-10:30 a.m. in Room 1310 of the Technical-Vocational Building.
For more information, contact the Speaking, Reading, and Writing Center in the Technical Vocation Building Room 1306 at 409-933-8702 or visit www.com.edu/srwc.