Speaking, Reading and Writing Center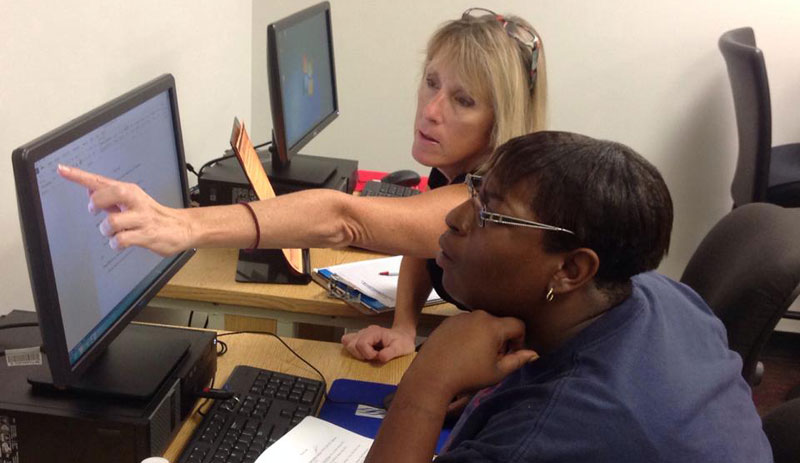 College of the Mainland's Speaking, Reading and Writing Center offers students, faculty members, alumni and staff a variety of academic and job preparation tutoring services.
Located in the Technical-Vocational Building, Room 1306, the center provides work space, up-to-date reference materials and trained tutors to work one-on-one with clients seeking to improve their public speaking, reading and writing skills.
Two soundproof speaking booths provide space to practice and record oral presentations, practice mock job interviews and work on group projects.
SRWC Services
Tutors can provide feedback and assistance with:
Brainstorming
Pre-writing
Organization
Thesis statements
Resume and cover letter
Grammar and punctuation
MLA, APA and CMS formatting
Writing and speaking for an audience
PowerPoint
Oral presentation
Interview practice
WC Online
The SRWC also offers online tutoring that allows clients to schedule one-hour sessions through WC Online, a web-based program with real-time chat and whiteboard space for revision available at com.mywconline.com.
---
Need help creating your WC Online account? Download our PDF on creating your WC Online account here: Creating an SRWC account in WC Online
Additional Services
Additional services include workshops on formatting styles, writing strategies, group projects, speeches and resume writing. Workshops and classroom presentations are also available on other topics upon request.
Appointments and walk-ins are welcome.
Hours of Operation
Summer 2016 semester hours
| | |
| --- | --- |
| Monday | 7 a.m. – 6 p.m. |
| Tuesday | 7 a.m. – 6 p.m. |
| Wednesday | 7 a.m. – 6 p.m. |
| Thursday | 7 a.m. – 6 p.m. |
---
For more information or to schedule an appointment, contact us at 409-933-8703, 409-933-8702, or lhacker@com.edu.