Micro-scholarships impact lives for less than $100
Oct 3, 2016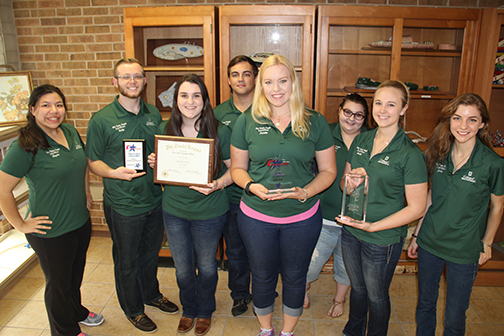 For Raquel Balderas, Phi Theta Kappa opened doors – to a major she loved, leadership opportunities and two national scholarships.
"I was able to receive the Coca-Cola Scholarship and learned about the [$58,000] Terry Foundation Scholarship via Phi Theta Kappa," said COM graduate Raquel Balderas, who received both scholarships. "Having this opportunity to network with universities and companies has allowed me to pursue my bachelor's degree at the University of Houston - Main Campus."
It also emboldened her through giving her opportunities to speak to students at New Student Orientation.
"(Two years ago), I wouldn't have done that," said Balderas. "I'm glad I got out of my shell."
The extra mentoring, scholarships and networking opportunities Balderas and other students receive in the international community college honor society make it well worth the $85 application fee. However, for some students struggling with college tuition, living expenses and family needs the cost is an impossible amount.
Faculty and staff at College of the Mainland are investing money for scholarships to cover the $85 application fee and help academically excellent students access the resources they've earned.
"It's a micro-scholarship – a small scholarship with an unbelievable return on investment for the student. It puts students on a path to success at COM and at a transfer university. The $85 scholarship can turn into a $10,000 scholarship when they transfer to a university and earn an honor society scholarship," said Matthew Busby, COM Foundation representative. "No one else is doing this kind of scholarship anywhere in Texas."
Not only will students have the scholarship to join PTK at COM, but when they transfer to a private or state university in Texas, they are often awarded scholarships solely for being members of the honor society.
The global trend of micro-loans, which give entrepreneurs a chance to restart their lives with small loans, inspired the scholarships.
"Phi Theta Kappa is one of the best student organizations. It encourages students to stay in college, maintain academic excellence, be mentored by faculty and build leadership skills," said Busby.
Phi Theta Kappa is an academic service organization that allows students to gain leadership and research skills while serving the community. Last year COM Phi Theta Kappa students launched Peers That Kare, a project to help COM students finish college by pairing them with an honor society student.
"Phi Theta Kappa opens doors for students to get more scholarships. It rewards those who get good grades and recognizes them for their sacrifice," said Emily Selesky, COM Phi Theta Kappa member.
To apply for the scholarship, students must complete one hour of community service and fill out an application. Students qualify for Phi Theta Kappa membership by having a GPA of at least 3.5 with at least 12 college credit hours.
Since 1967 College of the Mainland Foundation, a nonprofit, has been making a difference in the lives of students.
To learn more about this scholarship or COM Foundation, visit www.com.edu/scholarships or contact Matthew Busby at 409-933-8613.