"Wikked Wyves" project wins at symposium
May 17, 2016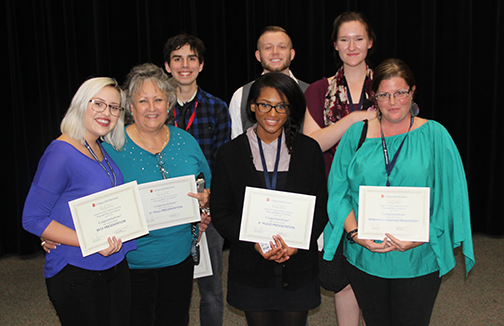 Romantic? Maybe. Fairy tales? Definitely not. In her winning project at the Gulf Coast Intercollegiate Academic Symposium at College of the Mainland, COM student Lauren Buchanan dissected the literature of the Middle Ages and the women they seemingly enshrine.
"A lot of people read these stories of courtly love and look at them as fairy tales, but a lot of these authors were using these to warn men about falling under the spell of women. They were meant to be a bit biting," said Buchanan.
The quest to understand the perception of medieval women began as an honors project for COM professor Dalel Serda's British literature class.
"I've never had a teacher like that. I wanted to get in and out [of class], but she pushed me and everyone in class to be better," said Buchanan.
Not many can replicate a project after a computer error the night before it's due, but Buchanan did just that and won.
"I found out last night when I went to print it my computer had been wiped and I didn't have it on a flash drive. I stayed up all night finishing it. But it worked," said Buchanan.
"It speaks to the level and depth of research she's done," said professor Dalel Serda. "It was in ingrained in her DNA, so she went and recreated it. She was this top student in the class from day one. She rose to the pressure."
Buchanan's was the first humanities project to win in the history of the four-year symposium hosted at COM.
Winning second place was "The Physics of Ion Propulsion" by COM student Drager Landry, advised by physics professor Herman Trivilino. Santiago Gutierrez, from Brazosport College, advised by Carrie Pritchett won third place for "Conflict as Context: Mexico's Journey Towards Self-Identity Through Revolution and Art." The fourth place winner was "Salem Witch Trials Revisited: The Ongoing Troubles of False Confessions" by COM student Kereece McLean, advised by Brian Anderson. Honorable mentions were "The Vegan Experience" by Freyja Coe, of Alvin Community College and advised by Elizabeth McLane; "The Shackles of Societal Standards on Masculinity in Fun Home: A Family Tragicomic" by Mandy Solombrino, of Lee College, advised by Georgeann Ward and NAME Hamby; and "The Declaration of Independence as a Document of Context: Review of the Initial Changes Made to Jefferson's Draft" by Cody Michael Kelemen, of College of the Mainland and advised by Brian Anderson.
The symposium April 29 showcased top projects in all subjects with the theme "Time and Place as Context." Students from Lee College, Brazosport College, Alvin Community College, COM and South Houston High School in Pasadena discussed how time and place influence people's actions and opinions.
The keynote speaker was Dr. Veronica Sanchez, a graduate of the University of Houston where she conducted research on the structure and tectonics of the Tibetan Plateau.
COM strives to offer academically challenging opportunities to students across the region. The college frequently invites regionally and nationally known speakers to share their expertise and experience.
For more information on the annual symposium, visit www.com.edu/symposium.