GCIC Academic Symposium
Spring 2017 GCIC Academic Symposium
"The Infinite Illusion, Disillusion and Promise of Truth."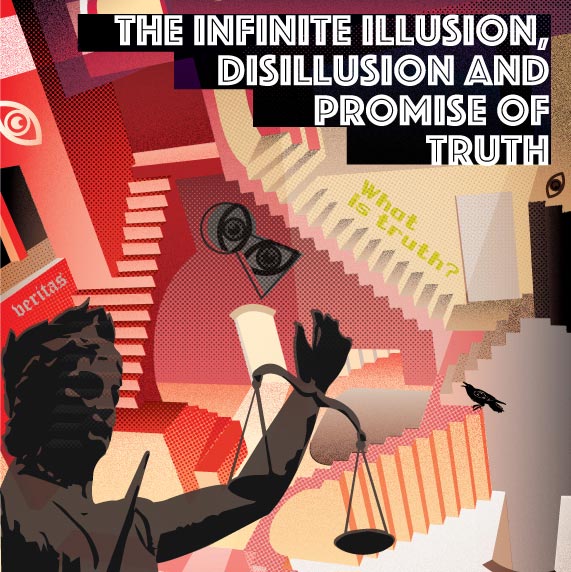 Friday, April 21, 2017
9 a.m. to 4 p.m.
Learning Resource Center Auditorium 131
Theme
"The great enemy of the truth is very often not the lie, deliberate, contrived and dishonest, but the myth, persistent, persuasive and unrealistic." -John F. Kennedy
"There are no facts, only interpretations." -Friedrich Nietzsche
"Everything we hear is an opinion, not a fact. Everything we see is a perspective, not the truth." -Marcus Aurelius
What does it mean when something is "true"?
The theme "The Infinite Illusion, Disillusion, and Promise of Truth" asks us to consider what we mean when we refer to the "truth." We ask students to consider the often-relative nature of our interpretations of truth and to measure a truth's validity for its subjective and/or objective value.
All subjects welcome
We ask students to ponder the depth and nature of "truths" in all subjects including and not limited to the arts, maths, sciences, social sciences, humanities and technical fields. We want students to create original, inquiry-driven projects that help them evaluate the relationship we have with "truth" and its implications. Students will then arrive at conclusions that help them make arguments through traditional or nontraditional research or fine art projects concerning the theme of "The Infinite Illusion, Disillusion and Promise of Truth."
Though modern life is moving forward in ways we deem evolutionary, revolutionary and perhaps innovative, our need to understand, seek or create truth remains a constant even when our definition of truth may change. This year's theme is broad and lends itself to cross-disciplinary examination, which is the driving force of our academic symposium.
Goal
Our intention is to enable students and their supporters to think more deeply than we're able to do in the classroom while sharing in formal and less formal networking opportunities.
Questions to ponder
Here are examples of questions that could serve as models for the kinds of projects students may wish to explore in academic research or art. We ask that all work be embedded within scholarly discourse of some kind: Is truth mathematically measurable? Does measurable truth feel better than unmeasurable truth? Is objective truth truer than subjective truth? Or is it the reverse? Does history provide us with truth? Does variation in perspective change truth? Does truth win? Is truth timeless? Is timeless truth truer than time-sensitive truth? What does truth look like? What does it sound like? What does it taste like? Is truth righteous? Is it just?
How to start
We invite you to contact us if you'd like elaboration on possibilities. Please submit 200 to 300-word abstracts through our abstract submission link by Saturday, April 1, 2017, at 7 p.m. Please follow the abstract protocols of the subject you select. For specifics, please ask a professor who may serve as mentor for your project, or contact us directly.
---
Please contact us with questions or comments.
Dalel Serda
Assistant Professor of English
GCIC Academic Symposium Chair
409-933-8497
dserda@com.edu