Galveston artist unveils gold leaf sculptures at COM
Oct 21, 2015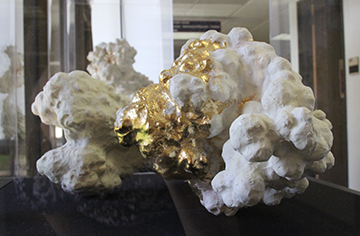 Gold leaf glints off free-form porcelain sculptures in a Galveston artist's exhibit in the College of the Mainland Enrollment Center.
"In all of my work I try to portray human beings, what it means to be human," said artist Kamila Szczesna. "I'm not creating a human body per se, but I want to recreate a feel of the human body."
In "Cluster" on display now, the gilded sculptures gleam against a backdrop of black-and-white prints Szczesna made from photographing them.
She laser-prints the photographs, lifts the toner powder with acetone, then layers the toner on a sheet of paper.
"Each print is unique. It's impossible to make two identical," said Szczesna.
She crafted the sculptures by stuffing pantyhose, molding them into forms reminiscent of coral reefs, encasing them in porcelain and firing them.
"I follow an idea. I explore and then find a way to execute it," said Szczesna. "It is my goal to leave the work open in its interpretations."
Szczesna explored ideas about the human form as a continuing education student in COM's Life Drawing class.
"I heard about Mark Greenwalt being a fantastic artist and teacher," said Szczesna. "Because I'm interested in drawing the human body, that was the perfect place to be."
With a master's degree from Academy of Fine Arts in Wroclaw, Poland, Szczesna has displayed works in her native Poland as well as the U.S., Spain, Germany, Japan and Korea. She has lived and worked in Galveston since 2002.
Committed to making contemporary artwork accessible, the COM Art Gallery is free and open to the public. The gallery is located in the Fine Arts Building and open Monday through Thursday 10 a.m. to 4 p.m., one hour before COM Community Theatre performances and by appointment.
For more information, please contact 409-933-8354 or 409-933-8348 or visit www.com.edu/gallery.