More than ever, COM dual credit springboard to college for Hitchcock students
Dec 10, 2014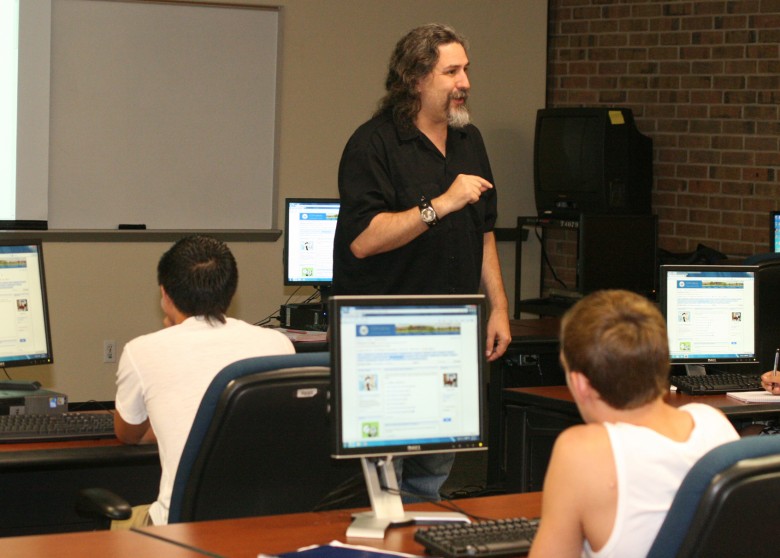 As a junior at Hitchcock High School, Marcus Escobedo was already bounding between honors classes, power lifting practice (he earned 10th place at the state competition) and shifts with the Hitchcock Volunteer Fire Department.

When Escobedo heard about dual credit classes, he thought it was too perfect of an opportunity to pass up. Taking college classes and earning college credit during his senior year of high school would give him a head start toward his dream job, kinesiology, which would unite his passions for sports and helping others.

"I wanted to get ahead," said Escobedo. "Hitchcock offers free college, so I wanted to take advantage of that."

"Free college," as he put it, means that Hitchcock High School pays for college tuition, books and fees after their students' test scores qualify them to take dual credit.

Escobedo isn't the only one to become excited about the program – more Hitchcock High School students than ever are enrolling in dual credit classes at College of the Mainland.

"We had 11 students two years ago, 22 last year and 44 this year. We've made an exponential increase," said Derek Hutchinson, the COM counselor at Hitchcock High School who also runs the college center that students can visit to ask questions about college majors, entrance requirements and financial aid.

While many colleges offer dual credit, the COM program at Hitchcock provides more than just academic classes. All dual credit students also enroll in Psychology for Success, a course that prepares students for inherent challenges of life and college.

Held at Hitchcock High School, Psychology for Success weaves activities and discussions with lessons about implementing study habits, viewing problems as potentials for growth and planning for contingencies. Once a week, Hutchinson supplies scholarship applications for students to complete. He also provides a segue to higher education with field trips to community colleges and universities across the state, paid for by the Gulf Coast PASS grant, funded by Houston Endowment Inc.

"The school district is embracing the program. They took away another barrier this year by providing transportation for students coming to COM," said Hutchinson. "It's paying off. Look at the numbers – 20 out of the 22 dual credit students last year went off to college."

Escobedo is one dual credit student who joined in the road trips to universities and won a superintendent's scholarship that he applied for during Psychology for Success. Now a full-time student at COM, he's armed with college credit and a knowledge of courses' structure.

"College is a lot easier because I did dual credit," said Escobedo. "(Psychology for Success teacher Doug Alvarez) got me doing presentations in front of people. During the first ones I kept looking down at my cards. Now I prefer presentations to tests. They're easier for me."

Plus, the mentors he gained in the program still walk his educational journey with him.

"I go to (Derick Hutchinson) if I need help or advice. He told me I need to balance work and school," he said. "We text all the time."

For more information about Dual Credit classes at College of the Mainland, call 409-933-8449 or visit www.com.edu/dual-credit.