COM Art Gallery announces spring schedule
Jan 22, 2014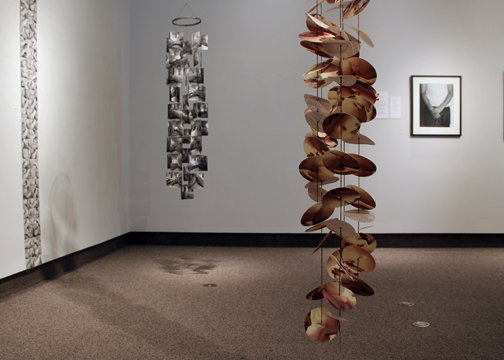 The College of the Mainland Art Gallery plans a semester of eye-catching exhibits featuring the work of artists from college faculty to children in the COM Child Development Lab School.

Now on display through Jan. 30, the biennial faculty exhibition juxtaposes the metallic hues of hanging art against the bold strokes of Japanese-inspired designs. Featuring black-and-white images, colorful paintings and graphite drawings, the exhibition is an eclectic collage exemplifying the masterful work of COM art professors George Bowes, Mayuko Ono Gray, Lisa Marie Kress, Mark Greenwalt and Kristy Peet.

A reception and artist talk will be held Jan. 28 from 12:30-1:30 p.m. in the gallery.

"We are artists first, then professors," said COM Art Gallery director Mayuko Gray, whose work is on display in the exhibit. "It's a good opportunity for students to see instructors' professional lives and what we have to offer in the art department."

Following the COM faculty exhibit, the art gallery will showcase a mixed media exhibition by art faculty from Texas A&M-Kingsville Feb. 10 to March 6.

"Texas A&M-Kingsville has one of the lower tuitions in the state and a wonderful art program. We want to show faculty members' work here so students can see the opportunities they have following graduation from COM," said Gray.

On March 7-28 the gallery will display art created by children in the COM Child Development Lab School. The school is designed, equipped and staffed to be a model of education of children from infants to pre-kindergarten.

Concluding the semester with a flourish, the gallery will exhibit the best of show from the Oh Snap! 2 Cell Phone Photo Contest on April 7 to May 1. Anyone living within 100 miles of COM may submit intriguing cell phone photos through March 28. Enter up to 10 photos by emailing comartgallery@yahoo.com. The reception and award announcement will take place April 10 at 12:30 p.m. in the COM Art Gallery.

The College of the Mainland Art Gallery serves as a resource for the study of art and art history and presents works demonstrating contemporary standards of quality. Committed to making contemporary pieces accessible, the gallery is free and open to the public.

The gallery is located in the COM Fine Arts Building and open Monday through Thursday, 10 a.m. to 4 p.m., and by appointment.

For more information about the gallery, visit www.com.edu/art-gallery or call 409-933-8354.