COM senior adult students endow senior scholarship
Feb 7, 2013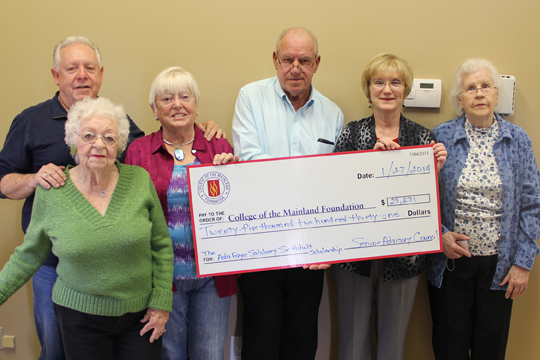 Eager to help other seniors pursue an education, the College of the Mainland Senior Adult Program Advisory Committee has raised funds to endow a scholarship exclusively for degree or certificate-seeking adults over 55.

The Ada Faye Salsbury Senior Adult Scholarship was begun by the Senior Adult Advisory Council, on which Ada Salsbury served. After she passed away, the scholarship was named in her honor. Her husband, Grover Salsbury, with Marge Dale and others on the recently formed Senior Adult Program Advisory Committee worked to raise funds to endow this scholarship in her memory.

"She loved the senior program. She took stained glass, jewelry and exercise classes. COM's got the best senior program in the state," said Hitchcock resident Grover Salsbury, 71. "My wife was one of the ones on the advisory council who started the program to give smaller, one-time scholarships to seniors. I wanted to see it keep going."

The Senior Adult Program Advisory Committee sought donations from senior adult program students and local businesses, and conducted a silent auction at the group's Annual Christmas Luncheon. The scholarship fund now totals $25,231, well exceeding the $20,000 needed to endow the scholarship in perpetuity.

"A lot of seniors become widowed or have lost retirement," said Grover Salsbury. "(This will help those) 55 or older get a certificate or degree to get retrained and back in the workforce."

The scholarship, and others distributed by the COM Foundation for students of all ages, goals and backgrounds, are open for application through March 31. To learn more or apply, visit www.com.edu/scholarships or call 409-933-8508.
Currently more than 1,200 students take advantage of the COM Senior Adult Program's day trips, lectures and classes. To learn more about the COM Senior Adult Program, visit www.com.edu/senioradults or call 409-933-8226.