50 Plus Program
Engage, express, explore
50 Plus Program Mission:
The College of the Mainland Lifelong Learning Program's mission is to provide learning opportunities for adult students 50 years of age and older by offering personal enrichment classes in a positive, accepting and intergenerational environment. The Lifelong Learning Program staff collaborates with academic departments and the community to develop programs that meet existing and emerging educational needs for this population.
Who Qualifies for This Program?
Any person 50 years of age or better.
Message From the Director
Welcome to the College of the Mainland Life­long Learning 50 Plus Program. We hope you have heard the exciting news that we have lowered the age of our program to welcome anyone age 50 or older. Please continue to help us spread the word about the education­al opportunities at COM. I am also available to share about our program with local groups or organizations that you are involved with.
We hope you will join us this summer for classes, lectures and educa­tional travel adventures. Inside these pages you will discover ways to express your creative side, learn new skills, connect with others, keep pace with technology, have fun and explore a world of opportunity. COM prides itself on having instructors who are passionate about their subjects and innovative in their teaching.
Mark Your Calendar
May 4 – Summer 2015 registration begins (You will be able to register at the COM Learning Center-Delmar from May 4- 29 or you may call 409-933-8226.)
June 1 – Summer classes begin
July 3 – COM closed for Independence Day
August 3 – Fall 2015 registration begins
New this summer – Book and Movie Community Reading Club (BAM)
New this summer, please join us for a Book and Movie Community Reading Club hosted by Ami Blackwell of SpinDrift Media and Entertain­ment. The first book is "Midnight in the Garden of Good and Evil," a nonfiction novel by John Berendt made into a movie directed by Clint Eastwood. We encourage participants to read it and join us to watch the movie and discuss the plot, key themes and major differences between the book and the movie. For more information, see page 42 of the Summer 2015 Schedule of Classes.
Have you attended our lectures and workshops?
Several this summer include AARP driver safety, Where Are My Keys? (help with memory issues), several genealogy lectures, Brazos Bend Gone Wild! (a preview of the art/photo safari trip planned for Fall 2015) and How to Use a Die-Cutting Machine. For more information, click on the 50 Plus Lecture and Travel Schedule.
You asked. We listened.
Have you participated in any of our educational travel adventures?
This is a great way to get to know others and stay involved in your commu­nity. Trips fill up fast, so find one you like and register soon. Local trips are exclusively for senior adults ages 50 or older, but extended travel trips are available to all ages. We will host two extended travel presentations, the first June 10, 2015, and the second Sept. 9, 2015, both at 3 p.m. at the COM Learning Center-Delmar, 1130 Delmar in La Marque. These presentations will preview the upcoming trips New England Rails and Trails (Fall 2015) and Southern California and Queen Mary Getaway (Spring 2016). For more information about educational travel, please call 409-933-8912. You do not need to wait until the travel presentation to place your trip deposit. Call 409-933-8912 to register or for more information.
Facebook
We also invite you to find us on Facebook: College of the Mainland 50 Plus Program, www.facebook.com/com50plus, for current information, event announcements and photos.
Email Distribution List
If you would like to receive event announcements, registration remind­ers and updates, please call Maegan Guzman at 409-933-8226 or email mguzman6@com.edu.
As our program expands, I challenge you to try a new class, something that has piqued your curiosity in the past or something you have always wanted to try. You might surprise yourself and make some new friends while you're at it!
We strive to offer fun, exciting and relevant courses. If you have a sug­gestion for other new courses, please call 409-933-8226.
Alesha Vardeman Aulds
aaulds@com.edu
409-933-8432
---
Summer 2015 Schedule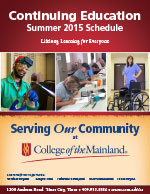 Spring 2015 Schedule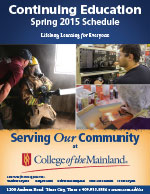 For step-by-step instructions on how to register using WebAdvisor, please click here.
Adobe Reader is free software for viewing and printing Adobe Portable Document Format (PDF) files. If you do not have it installed, please get Adobe Reader.
Registration for 50 Plus Program (Formerly Senior Adult Program)
Registration for the Summer 2015 semester will run Monday, May 4 – Friday, May 29. You may register on the computers at the COM Learning Center-Delmar from May 4 – May 29. To register by phone, please call 409-933-8226.
Note: If this is your first time to enroll as a 50 Plus Program student, you must show proof of age.
For additional methods of registration, please see page 3 of this schedule. Please note that if you pay by cash, check or money order, you must register at the Enrollment Center on the main campus.
Waiting Lists
Want to attend a class or trip that is full? Contact the Office of Lifelong Learning at 409-933-8226 (classes and lectures) or 409-933-8912 (trips) to place your name on a waiting list.