50 Plus Program
The College of the Mainland 50 Plus Program will be respected region­ally and nationally for excellence in the development and delivery of innovative educational opportunities for adults age 50 and older.
50 Plus Program Mission:
The College of the Mainland Lifelong Learning Program's mission is to provide learning opportunities for adult students 50 years of age and older by offering personal enrichment classes in a positive, accepting and intergenerational environment. The Lifelong Learning Program staff collaborates with academic departments and the community to develop programs that meet existing and emerging educational needs for this population.
Who Qualifies for This Program?
Any person 50 years of age or better.
Message from the Director
Welcome to the College of the Mainland Life­long Learning Program. As you read through the pages of the Spring 2015 Schedule, you will discover some exciting changes. We are proud to announce that we are lowering the age for involvement in our Senior Adult Pro­gram. You will also notice that beginning this semester, we will refer to this program as the 50 Plus Program. Our program has continued to grow and we consistently have over 1,000 students each fall and spring semester. Look for more exciting changes coming soon!
We hope you will read through the schedule and register for classes, lectures and trips. Inside these pages you will discover ways to express your creative side, learn new skills, connect with others, stay current on technology, have fun and explore a world of opportunity. College of the Mainland prides itself on having instructors who are passionate about their subjects and innovative in their teaching.
Mark your calendar for these important dates:
Dec. 1 – Spring registration begins
Jan. 20 – Spring classes begin
March 16-21 – COM closed for Spring Break
April 3-5 – COM closed for Easter holiday
May 4 – Summer registration begins
June 1 – Summer classes begin
Have you taken a trip with us yet? This is a great way to get to know other seniors and stay involved in your community. Most trips fill up quickly, so register soon.
You asked. We listened.
Due to popular demand, College of the Mainland Lifelong Learning proudly announces the return of extended travel trips. Upcoming tours include Canadian Rockies Via Rail and New England Rails and Trails. Make plans to attend a travel presentation on Dec. 9. Two sessions are offered for your convenience at 3:30 p.m. and 5:30 p.m. See the trip details and pricing on pages 38 and 39 of this schedule. You do not need to wait until the travel presentation to place your trip deposit. Call 409-933-8912 to register or for more information.
As our program expands, I challenge you to check out a new class that piques your curiosity or that you have always wanted to try. Invite your friends and neighbors to explore something with you!
If you have a suggestion for new courses, please call the Office of Life­long Learning at 409-933-8226.
If you have not yet met our new administration assistant, Maegan Guz­man, come by the office to welcome her or say hello. Maegan's wealth of experience has already been a great asset to our program.
Alesha Vardeman Aulds
aaulds@com.edu
409-933-8432
---
Summer 2015 Schedule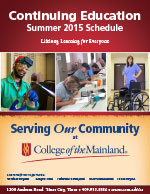 Spring 2015 Schedule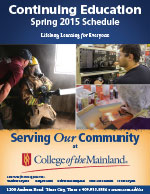 For step-by-step instructions on how to register using WebAdvisor, please click here.
Adobe Reader is free software for viewing and printing Adobe Portable Document Format (PDF) files. If you do not have it installed, please get Adobe Reader.
Registration for 50 Plus Program (Formerly Senior Adult Program)
Registration for the Spring 2015 semester will run Monday, Dec. 1, to Wednesday, Dec. 17, (except Friday, Dec. 12, during the Annual Christmas Luncheon) and continue on Jan. 5. You may register on the computers at the COM Learning Center-Delmar from Dec. 1-17 and Jan. 5-16. For additional methods of registration, including by phone, please see page 3 of this schedule. Please note that if you pay by cash, check or money order, or if this is your first time to register as a student age 50 or older, you must register at the Enrollment Center on the main campus and show proof of age.
Waiting Lists
Want to attend a class or trip that is full? Contact the Office of Lifelong Learning at 409-933-8226 (classes and lectures) or 409-933-8912 (trips) to place your name on a waiting list.