Ching Recognized as November Employee of the Month
Nov 1, 2018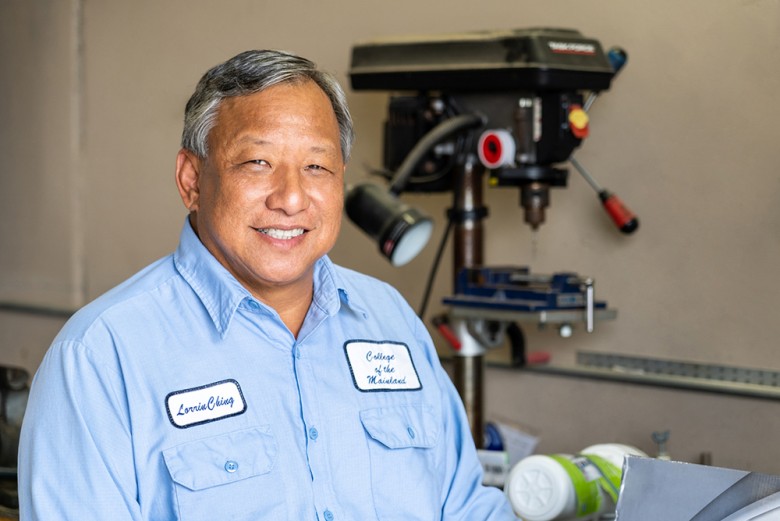 Lorrin Ching, according to a co-worker, has a willingness to help others. That description was spot on when Ching helped save a man's life in September despite risking his own life.
For his heroic efforts, Ching is the November Employee of the Month at College of the Mainland.
Ching was working alongside Gary Glover with Crescent Electric the morning of Sept. 19 when Glover used a crowbar to lift a utility manhole cover and came in contact with a live wire. Ching was able to pull Glover off the energized cover by pulling on his shirt; risking being electrocuted himself and then began CPR. Four student nurses aided in reviving Glover as did COM Police Lt. Jill Hamm.
Ching, a master electrician with 43 years of experience, has worked at COM for four years.
"Mr. Ching is always polite, friendly and professional. His actions on Wednesday, Sept. 19 were heroic and selfless. He deserves this recognition and much more!" a co-worker who nominated Ching said. "His every day demeanor and his actions on Sept.19 is a testament to COM's spirit of inclusion and respect for your co-workers."
Two COM employees nominated Ching to be recognized as Employee of the Month.
"He has always displayed professionalism, integrity and a willingness to help others," one nominator said.
Last month, Ching, Hamm and the four student nurses - Alexis Boettcher, Rachel Cunningham, Shanee Scribner and Andrea Strickland – received the first ever COM Distinguished Service Award.
Things you may not know about Lorrin Ching:
Cats or dogs: Dogs. I have a toy poodle called Kerry
What he does when not working: Go camping and fishing.
What's the best part of your job? The best part of my job is without a doubt the people that I work with.
Last good movie you watched? Last good movies I watched with my wife was Wonder Woman.
What's on your bucket list to visit? Drive to Key West, Florida and Mount Rushmore, South Dakota; see Europe
Hobbies? Bowling