COM Conference Center Opens
Oct 26, 2018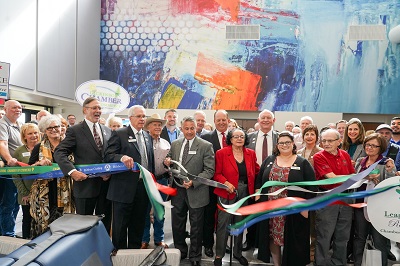 The new College of the Mainland Conference Center opened with great fanfare the afternoon of Monday, Oct. 22 with more than 350 community members and COM employees in attendance.
As guests mingled in the lobby, a collective ribbon cutting from seven Chambers of Commerce was conducted prior to the conference center doors opening.
"This conference center was the result of a maintenance tax note that the Board of Trustees approved," COM President Dr. Warren Nichols told those in attendance. "You all are sitting on what was a 50-plus-year-old swimming pool that had been closed for years. Through the vision of our board and with the help of our architects you now are sitting on water, or what was water."
The conference center is 5,887-square-feet and when set up auditorium-style can seat 540 and about 360 when set up banquet-style. The large room is equipped with two partitions that will hold about 180 chairs or seat 120 around tables in three areas. There also is a smaller conference for 14 as well as a lobby with seating and a prep kitchen.
The center will be available for use by the community.
"Wonderful contribution to our community," Kay Koehler with the Safety Council of Texas City commented on social media about the conference center.
During the grand opening, COM Board Chairman Kyle Dickson, Texas City Mayor Matt Doyle, State Rep. Wayne Faircloth and Ron Sokol, COM Foundation president gave remarks and State Rep. Wayne Faircloth read a proclamation from Texas Gov. Greg Abbott recognizing the center's grand opening.
COM's Duck & Cover A Cappella under the direction of Dr. James Heffel performed as guests mingled.
It took Bartlett Cocke General Contractors more than six months to convert the former Olympic-sized swimming pool, which closed years ago, into the multi-purpose conference center. Construction crews used more than 700 cubic yards of flowable fill – a liquid soil comprised of cement, water, fine aggregate and fly ash to fill the 11-foot deep pool.
Following the grand opening ceremony, guests were given tours of other improvements on the campus. The improvements include the adjacent gymnasium, the new state-of-the-art chemistry lab, a new roof to the Fine Arts building and the continuing improvements to the student center. Guests also were treated to an "augmented reality sand box" and the workings of a 3D printer which allows students to create three dimensional solid objects.
The campus improvements are part of $16.2 million maintenance project. The student center is scheduled to be complete by year's end.