"Go-To" Massey Named July Employee of the Month
Jul 2, 2018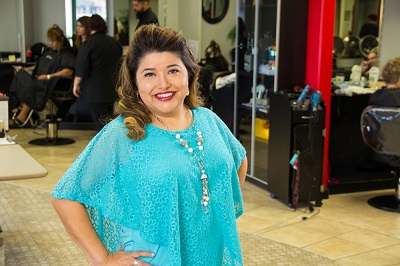 Her job title is administrative assistant but to those that work with her, she is best described as the "go-to" person.
If anyone in the Cosmetology Department at College of the Mainland has a question, the first person they ask is Monica Massey. Massey's attention to detail and at-ease personality are some of the reasons she was nominated and named July Employee of the Month.
Massey first stepped onto the COM campus in 1994 as a student and student worker in the Human Resources Department and then worked part-time Developmental Studies Department. She earned an Associate of Arts in 1996.
In 2001, Massey began working full-time the Cosmetology Department, enrolled in the evening esthetics program a year later and received her license in 2003. She left COM in 2004 when her family moved to Houston.
Massey, the Cosmetology Department's first full-time administrative assistant, juggles running the front desk at The Salon, managing the appointment book, dealing with clients, ordering products and teaching an evening esthetics class yet always makes time to attend most events held on the main campus and urges her co-workers to do the same.
"Monica is our back bone, she is committed to making sure we are doing our jobs to the best of our abilities," her nominator said. "Without Monica keeping us informed on what needs to be turned in and in what form it needs to be submitted, we would all be a little lost. Anytime I need help with something I can always count on Monica, even if she has to do the research to figure it out herself. Monica definitely helps to bring the stress levels around her down."
When Massey's husband was transferred back to Texas in 2015, she enrolled in the instructor's program and was licensed to teach esthetics in 2016. She taught on a substitute basis starting in March 2017. When the administrative assistant position became available she applied "and now have my old job" back."
Aside from teaching esthetics, Massey looks forward to teaching massage therapy this fall after the COM Board of Trustees approved massage therapy as a new continuing education program.
Things you may not know about Monica Massey:
Cats or dogs: Dogs. Has Yoda, a black and white pit bull mix, and Blue, a merle border collie
What she does when not working: Likes to go out to dinner and a movie
What's the best part of your job? Helping others and loves the group of women in her department.
Last good movie you watched? Incredibles II
What's on your bucket list to visit? Bora Bora and Australia
Hobbies? Ride bikes with the family and travel by staying fun hotels and/or bed & breakfasts and trying new restaurants.