COM Plans Juneteenth Celebration
Jun 4, 2018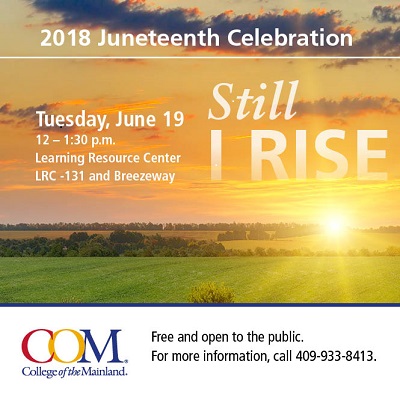 College of the Mainland will commemorate Juneteenth with speakers, music and poetry readings on Tuesday, June 19 from noon to 1:30 p.m. in the LRC breezeway.
The celebration will include a history of Juneteenth by Upward Bound student Cavion McCoy; soloist Dezarae Petteway, who also is an Upward Bound student; poetic reading of "Still I Rise" by former student Dey'Shronda Lynch and COM student Shayla Agbilibeazu will serve as guest speaker.
Juneteenth commemorates the date in 1865 when Union Gen. Gordon Granger arrived with his troops at Galveston Island on June 19 and read President Lincoln's proclamation, freeing the state's 200,000 slaves. The proclamation had originally taken effect on Jan. 1, 1863, but word didn't reach Texas until two months after Confederate Gen. Robert E. Lee surrendered to Union Gen. Ulysses S. Grant, and more than two years after the proclamation was issued, according to The Handbook of Texas Online.
Texas is the only state that has designated Juneteenth as a state holiday.
Juneteenth has gained popularity in other southern states like Mississippi, Louisiana and Oklahoma.
Traditionally observed as an occasion for celebration – including picnics and parades in some parts of the state – in recent years Juneteenth has also become an occasion for reflection, a time to recognize achievements in such diverse areas as literature, music, art and economic development. Some have even equated the holiday with having the same importance among Afro-Americans as Cinco de Mayo has among Latinos, The Handbook of Texas Online says.
For more information about the Juneteenth celebration, call 409-933-8413.