Collegiate High School Honors Graduates
May 17, 2018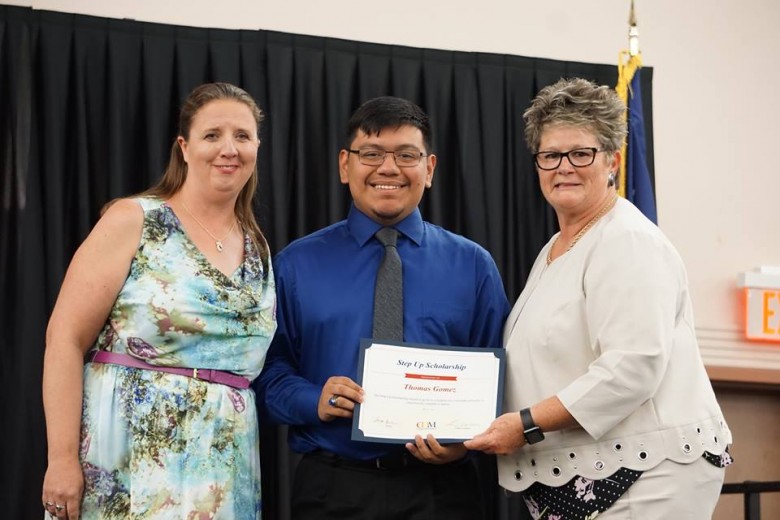 Eighty area high school students were honored during the 14th annual Collegiate High School Recognition Banquet on Tuesday, May 15.
Collegiate High School, housed at College of the Mainland, allows students from area high schools to receive an associate degree from COM and a high school diploma at the same time. On May 12, students walked across the stage to receive their associate degrees and later this month will receive their high school diplomas from their respective schools. A total of 63 students received their associate degree while one, Maria Henriquez, earned two associate degrees.
Julia White of Santa Fe was named Valedictorian of her class while Henriquez of Odyssey Academy received the Salutatorian distinction during the ceremony held at the Doyle Center in Texas City.
Other Collegiate High School students were named top students from their respective high schools. They include Ingrid Vicente, Valedictorian, and Jazmine Nelson, Salutatorian, at La Marque High School; Henriquez, Valedictorian, and Jeremiah Lewis, Salutatorian, at Odyssey Academy, and Maizie Fernandes, Valedictorian, at Abundant Life Christian School.
Those recognized as scholarships recipients included:
Scholarship for Academic Recovery ($500)
Thomas Gomez, Odyssey Academy
Parent Meeting Scholarship ($250)
Isabella Atkins, Dickinson HS
Meredith Dauphine, Santa Fe
Aundrea Enriquez, Odyssey Academy
John Herrington, Dickinson HS
Jazmine Nelson, La Marque HS
Makenna Pedersen, Dickinson HS
Alfredo Rivas, Odyssey Academy
Jayden Thiem, Texas City HS
John and Josh White Memorial Scholarship ($250)
Jhenda Griffin, Hitchcock HS
Total Industrial Specialties Services, Inc. Scholarship ($500)
Brittanie Brown, Hitchcock HS
Dedrick Johnson, Texas City HS
Maizie Fernandes, Abundant Life Christian Life School
Joe Pedraza, Odyssey Academy