COM Student Receives National PTK Award
Apr 26, 2018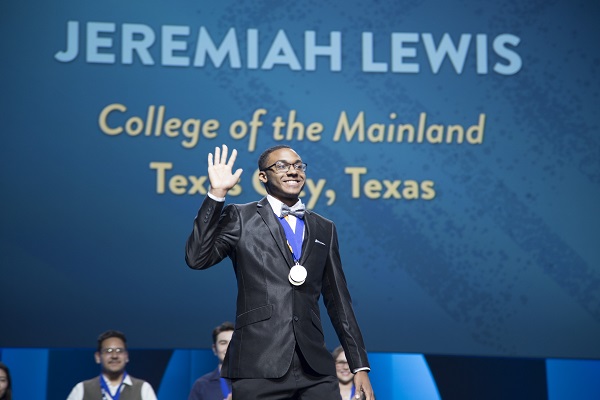 Jeremiah Lewis, a Collegiate High School student at College of the Mainland, received a Phi Theta Kappa 2018 Distinguished Chapter Member Award during the organization's national convention in Kansas City, Missouri.
Lewis was selected for the individual award based on a student's embodiment of the Hallmarks of the Society (Scholarship, Leadership, Service and Fellowship) through Honors in Action and other chapter activities. He was one of 30 nationwide to receive the award on April 20.
After receiving his Associate of Arts degree in general studies in May, Lewis plans to attend the University of Houston and major in computer science.
While at COM, Lewis was chosen to serve as a Supplemental Instruction leader by his algebra professor. In this role he tutored students by conducting sessions outside of class and provided beneficial tips. Working with PTK and college administrators, he also took on the role of helping produce student success videos to aid students.
Also at the conference, Maria Henriquez was recognized as a 2018 Coca-Cola Academic Team Gold Scholar. She was awarded a commemorative medallion and a $1,500 scholarship. The Coca-Cola Scholars Foundation sponsors the Coca-Cola Academic Team program by recognizing 50 Gold, 50 Silver and 50 Bronze Scholars with nearly $200,000 in scholarships annually.
Henriquez and Lewis are both attending Collegiate High School through its partnership with Odyssey Academy in Galveston.
Earlier this year, Henriquez also was named to the All-Texas Academic Team. She will graduate as Valedictorian in May with her high school diploma as well as with an Associate of Arts degree in general studies and an Associates of Science degree in mathematics. She plans to further her education at the University of Texas at Austin and major in chemistry.
Other COM students attending the national conference were PTK members Xavius Broussard, Cynthia Dryer, Hannah Kelm, Luis Lopez, David Milling and Mikayla Roseboro.
Phi Theta Kappa is an honor society recognizing the academic achievement of community college students.