Celebrate Asian/Pacific American Heritage Month
Apr 19, 2018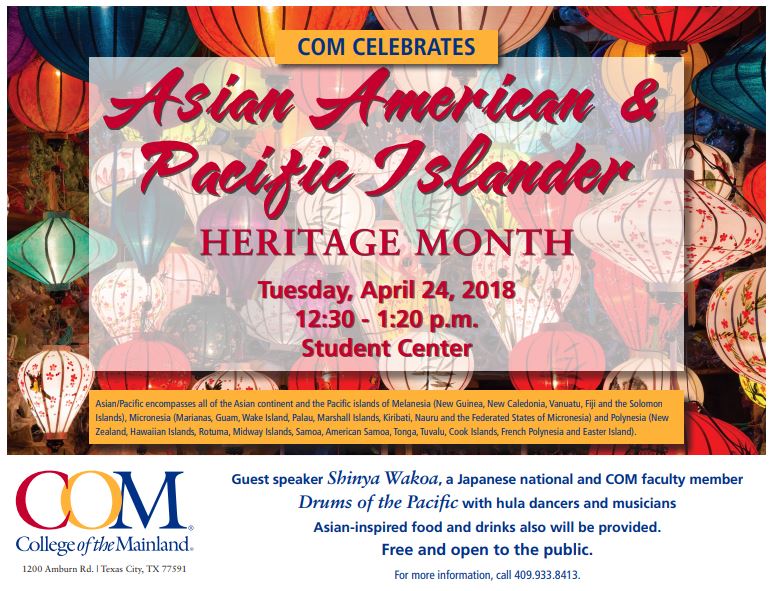 The Asian/Pacific American Heritage Month is usually celebrated in May but College of the Mainland's multicultural committee can't wait and will celebrate on Tuesday, April 24 from 12:30 p.m. to 1:20 p.m. in the Student Center.
One of our own faculty members, Shinya Wakao, a Japanese national, will serve as guest speaker while Drums of the Pacific will entertain guests with hula dancers, musicians and a fire act. Asian inspired food and drinks also will be provided.
"I hope that everyone will come out and join us as we celebrate and learn more about the Asian American Pacific Islander culture and how it has enriched the overall fabric of America," said Lonica Bush, COM's Director of Institutional Equity.
May is the official month to celebrate Asian/Pacific American Heritage Month but will be recognized at COM a little early due to May being the end of the semester and finals and so it does not coincide with planned Cinco de Mayo festivities.
According to the Library of Congress, Asian/Pacific encompasses all of the Asian continent and the Pacific islands of Melanesia (New Guinea, New Caledonia, Vanuatu, Fiji and the Solomon Islands), Micronesia (Marianas, Guam, Wake Island, Palau, Marshall Islands, Kiribati, Nauru and the Federated States of Micronesia) and Polynesia (New Zealand, Hawaiian Islands, Rotuma, Midway Islands, Samoa, American Samoa, Tonga, Tuvalu, Cook Islands, French Polynesia and Easter Island).
Congress first recognized Asian/Pacific American Heritage Week in 1978 and in 1992 expanded the observance to the entire month of May.
May was chosen to commemorate the immigration of the first Japanese to the United States and for the anniversary of the completion of the transcontinental railroad which was laid mostly by Chinese immigrants.