COM President Participates in Higher Education Panel Discussion
Apr 6, 2018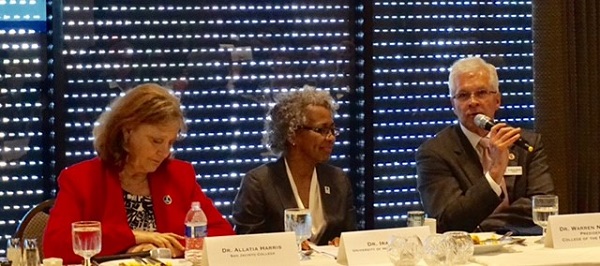 College of the Mainland President Dr. Warren Nichols was part of a panel discussion at a Higher Education Breakfast on Thursday, April 5 at Lakewood Yacht Club in Seabrook.
The breakfast hosted by the League City Regional Chamber of Commerce gave Nichols the opportunity to showcase how COM is meeting the needs of 21st century learners and preparing students for an ever-changing workforce.
Dr. Ira Blake, president of the University of Houston –Clear Lake, and Dr. Allatia Harris with San Jacinto College, also were part of the panel discussion.
Nichols delved into how COM is meeting workforce demands of businesses in their area and the innovative programs being created to address workforce needs. At COM, Nichols, faculty and staff are in tune to the growing needs in the health profession and local industry.
He also spoke of the college addressing its immediate facilities' needs by making improvements through a $16.2 maintenance bond program and the likelihood of the Board of Trustees calling for a bond election this fall to cover the costs of other needs to accommodate a growing student population and new programs.
COM also set up a "spotlight" table allowing the breakfast attendees to learn about the college's academic programs and see artist's renderings of planned improvements to campus buildings that is part of a maintenance bond program.