Henriquez Named Coca-Cola Academic Team Gold Scholar
Mar 28, 2018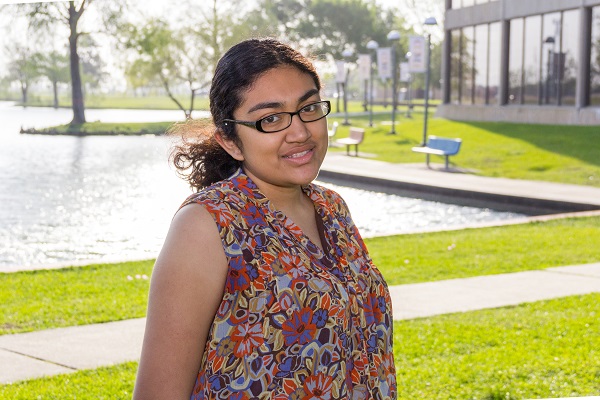 Maria Henriquez, a Collegiate High School student at College of the Mainland, has been named a 2018 Coca-Cola Academic Team Gold Scholar and will receive a $1,500 scholarship.
Henriquez, a 17-year-old from Galveston, also was named to the All-Texas Academic Team. She will graduate as Valedictorian with her high school diploma as well as with an Associate of Arts degree in general studies and one in science and mathematics. The first-generation college student plans to further her education at the University of Texas at Austin and major in chemistry.
"We are so proud of Maria and all her accomplishments," said Sandra Belcher, principal of Collegiate High School. "She has really excelled since enrolling at Collegiate High School from Odyssey Academy three years ago."
The Coca-Cola Scholars Foundation sponsors the Coca-Cola Academic Team program by recognizing 50 Gold, 50 Silver and 50 Bronze Scholars with nearly $200,000 in scholarships annually. Each scholar also receives a commemorative medallion.
"The Coca-Cola Scholars Foundation has a long history of providing financial assistance to outstanding students at community colleges," said J. Mark Davis, President of the Coca-Cola Scholars Foundation. "We are proud to partner with Phi Theta Kappa and make it possible for deserving students to achieve their educational goals."
Students are nominated for the academic team by their college administrators. Selection is based on academic achievement, leadership, and engagement in college and community service.
Henriquez has been active in the Phi Theta Kappa chapter serving as co-chair of the College Project, which creates scholarships for PTK-eligible students who cannot afford the group's $85 application fee. She also tutors GED students in math and works part-time.
Coca-Cola Academic Team members will be recognized in both local and statewide ceremonies and also will be recognized internationally during Phi Theta Kappa's annual convention on April 19-21 in Kansas City.