COM music professor publishes seventh book
Aug 24, 2017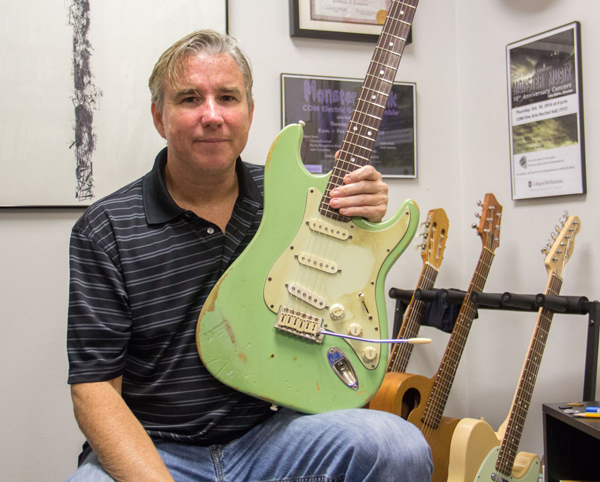 College of the Mainland professor John Kiefer's seventh book, "Electric Baroque," was released this summer. The book arranges Baroque-era pieces for electric guitar musicians.
Kiefer's other works published by Mel Bay include "J.S. Bach for Electric Guitar," "Mozart for Electric Guitar" and "Etudes Electric," a set of modern studies for electric guitar.
"Electric Baroque" features 16 solos, 10 duets, 17 passages and four multi-movement electric guitar/piano arrangements including the famous Vivaldi mandolin concerto.
"Most instruments have centuries of tradition and literature to study, not so with the electric guitar. Performing classical masterpieces well on electric guitar can only help to legitimize the instrument. By attending a guitar ensemble concert or student recital you might hear Vivaldi directly after Van Halen," explained Kiefer.
Kiefer teaches guitar lessons at COM and composes music. Recently his trio "Machina" for clarinet, violin and cello was premiered at the MATCH center downtown. The piece was commissioned by the Texas New Music Ensemble.
Kiefer's percussion octet, "Ritmica" was awarded the graduate prize of the 2001 Louisa Stude Sarofim Composition Competition. The piece was also featured on NPR's Theme and Variations radio program. Three orchestral pieces: "Hexenbrau," "Ursa Major" and "Karankawa" were commissioned and premiered by the Baytown Symphony Orchestra.
Kiefer founded the COM Electric Guitar Orchestra, which has premiered many new pieces by composers around the world. Kiefer has also hosted electric guitar master classes at COM by Ron Jarzombek, Marshall Harrison and Rusty Cooley, among others.
For more information on COM's music program, visit www.com.edu/music or call 409-933-8348.