From academic suspension to academic counselor
Jul 26, 2017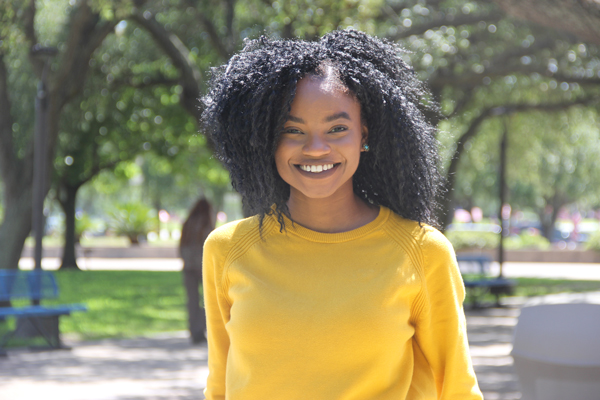 Chelsea Murray, of Houston, has already beaten the odds – and now she wants to help other students do the same.
A first-generation college student, she recently earned a bachelor's degree, and has returned to College of the Mainland to help other at-risk students do the same.
"I wanted to work with students of all ages. I was a first-generation college student at COM. COM staff supported me. I want to do the same thing for other students," said Murray. "There's a stigma that students with low incomes or first-generation college students can't succeed but COM Upward Bound gives support."
The COM Upward Bound program, funded by a federal grant, helped Murray as a high school student learn about college and financial aid options. Ciro Reyes, director of TRiO programs, mentored her and helped her apply for universities, learn about scholarships and see what majors were available.
"My favorite parts were visits to colleges and universities and the friendships I created. I still keep in touch with most of the students I was in Upward Bound with," said Murray.
After high school graduation, she attended Stephen F. Austin University – which was a shock.
"I had a huge adjustment as a student. I didn't seek help for classes. I thought it would be like high school. I received every letter grade possible the first semester. I was on academic probation and suspended," said Murray.
She returned to COM, this time as a college student and joined the Upward Bound sister program Student Support Services.
"I still received the same level of support," said Murray. "It was a reset. My first semester I was inducted into Phi Theta Kappa, the international community college honor society. That showed me everything was possible."
She excelled and won the Words That Changed History Student Speech Contest in 2014. She also starting working in the COM Speaking, Reading and Writing Center.
"While I was here, I molded myself into someone I could be proud of. As cheesy as it sounds, COM helped me find my voice," said Murray.
She graduated with an associate degree and all her credits transferred to the University of Houston.
She volunteered with Sylvester Turner's mayoral campaign and interned in the Theatre District of Houston. With a political science major and minor in African-American studies, Murray traveled to Ghana to study to West African culture, philosophy, and religion.
She also was a counselor at University of Houston with Cub Camp, an orientation program for incoming freshmen to learn how to succeed in college.
"I feel like UH pushed me toward public service and COM motivated me toward education," said Murray.
She's merging the two fields as a COM Upward Bound advisor – talking to each of the 70 students in the program about their goals for the year, whether passing geometry or getting into their dream college.
Her long-term goal is to be a professor and she is applying to graduate school.
"You learn a lot from students. They remind you of yourself. You make a community," said Murray.
"COM is home. As alum, I've been here since high school since I was an Upward Bound student. This is my way of giving back."
Learn more about Upward Bound at www.com.edu/high-school-programs/upward-bound.