Teachers of the Year: Making Science Fun
Jun 16, 2017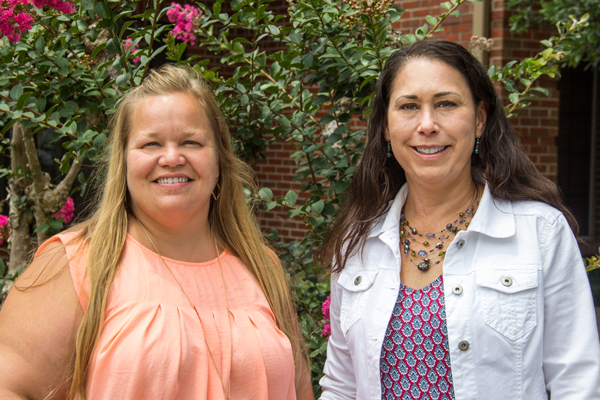 Passion and compassion were two essentials that students cited when voting professors Jessica Jemison-Williams and Jennifer Robinson College of the Mainland Teachers of the Year.
Jessica Jemison-Williams, of Conroe, teaches Anatomy and Physiology 1 and 2. She and her students perform experiments, such as graphing on a computer the electrical currents in during muscle contraction of the forearm and blood typing using artificial blood.
"She is passionate about science and it reflects in her teaching style. She gives her students the tools to be successful," said student Melissa Westbury.
Besides teaching about the intricacies of the body, Jemison-Williams encourages students to learn study skills to set them up for success in later courses.
"She is the best professor I have ever had. She pushes me to do better and to achieve my goals. Without her, I have no idea if I could have survived the million and one breakdowns from nursing school and prerequisites. She doesn't take it easy on you. She makes you push through it, which is what I love about her," said student Erin Workman.
Jemison-Williams has taught at COM for three years.
"What I enjoy most about teaching are the relationships I am able to build. I am a compassionate and easy-going professor that understands things happen, outside of the classroom, in their lives. If a student is allowed the slightest bit of leeway when needed, that means so much to them. I also hope they understand that they can do anything if they work hard enough to achieve whatever they are working towards," said Jemison-Williams.
In class Jemison-Williams dissects animals so students get an overview of all organ systems and performs urinalysis and a lab-style pregnancy test using artificial urine and hormones.
"Jessica takes advantage of technology and many of the forms students now use communicate with each other to help students stay up to date with the assignments. She interacts well with her students and takes the time to get to know them," said Leslie Richardson, chair of the COM Math and Science Department.
Jennifer Robinson, of Dickinson, works with students throughout their time in the one-year COM Licensed Vocational Nursing Program.
"She has really shown me what it means to care about her students! Nursing school is very challenging but having an encouraging teacher makes it a little easier," said student ShaVonte Verrett.
Jennifer Robinson, of Dickinson, previously worked in pediatric nursing and at clinics.
"I enjoy having the opportunity to share my knowledge and experience with students so they can be better prepared for the workplace," said Robinson. "I want students to develop critical-thinking skills. There's a lot of judgment calls and on-the-spot decisions to make in nursing. I want to enable students to provide safe, effective, patient-centered care."
Each course in the COM Licensed Vocational Nursing Program builds on the previous one and prepares students to serve in health care and long-term care facilities.
"Jennifer has a very quiet, respectful way of interacting with students. They feel safe with her," said Dr. Jere Hammer, COM director of nursing. "She uses discussion and strategies to make students think and she's excited about education."
Robinson guides students through clinicals and classes.
"Her doors are always open along with her heart. She is the reason why I am a student that refuses to give up!" said Chantal Dixon.
For more about COM nursing programs, visit www.com.edu/nursing.