Ranked #2, COM student heading to billiards nationals
Jun 14, 2017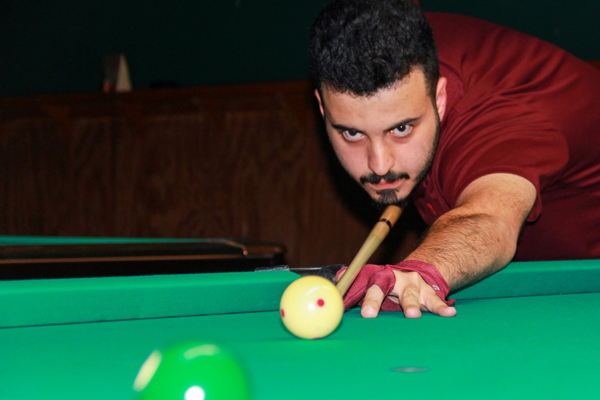 For Burak Temel, pool is like chess.
"You have to play defense and offense. You constantly have to be thinking several moves ahead," said Temel.
The College of the Mainland student recently battled community college and university students and placed second at the Association of College Unions International qualifier tournament at the University of Houston. Now he's on his way to the Association of College Unions International 9-Ball National Championships this month.
"I've been playing pool almost every single day since I was 13," said Temel. "It's more than a hobby. When I play pool, I forget everything and focus on the game."
Temel, of Galveston, is studying Process Technology at College of the Mainland and has a 3.43 GPA. A COM international student, he originally majored in British Literature in his home country, Turkey.
"I'm in love with languages. I speak English, Spanish and Turkish," said Temel.
He's won plenty of local and COM recreational tournaments.
"While playing, you really need to be focused about what you're going to do. Your opponent can't play while you're playing, but you watch them make a good shot and that can affect you. Mental strength is very crucial for pool," said Temel.
You can find him at a pool table two or three hours every day. Temel also runs a local pool tournament at Legends Billiards in League City.
"It's 60 percent mental and 40 percent physical," said Temel. "You create the table in your mind. It's all geometry. You draw lines in your mind and when you get down to shoot, you make it happen."
Temel also won the Gulf Coast Intercollegiate Consortium tournament and ranked as the top community college pool player in the region.
"He's successful in the classroom and in the rec room," said Tige Cornelius, COM director of student life.