18 cadets ready to serve
Jun 8, 2017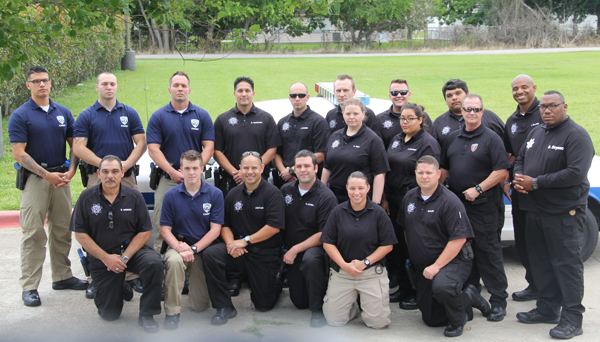 A total of 18 cadets are now ready for service after graduating May 26 from the College of the Mainland Basic Peace Officer Academy.
All 18 passed the state licensing exam on the first attempt, and two stood out for special awards.
David Sinclair, of Murchison, Texas, won the Top Gun Award for accuracy (99.74 percent). David Gothard, of Pearland, won the Academic Award for his 96.55 average and won the Alfred Goerlich Leadership Award.
Both students are new hires of the Galveston Police Department.
"I've been on the job already and I feel like I'm more than prepared," said Gothard. "The level of instructors Capt. Karlok brings in are phenomenal. Their knowledge and passion is evident.
This is a second career for Gothard who previously worked in oil and gas.
"Being an officer piqued my interest. I wanted to serve something greater than myself. I made a lot of money, but I felt like I wasn't making a difference and so I started applying to police departments."
Sinclair said he was inspired to become a police officer after a family tragedy.
"I lost my nephew about two years ago and the police officers who responded were awesome and helped me and my family through the night. I wanted to do that for someone else," said Sinclair.
"Today was my third day in the field and a lot of things the instructors advised me about what they've experienced have helped me a lot already."
In the COM Basic Peace Officer Academy, students learn how to investigate, write reports, properly use force, diffuse situations verbally, as well as receive detailed exposure and testing on state and federal laws. Day credit academies begin each January and July. Night academies begin each February. Students may apply for financial aid and scholarships.
For more information, visit www.com.edu/law-enforcement or call 409-933-8285.