COM graduates 41 future nurses
Jun 5, 2017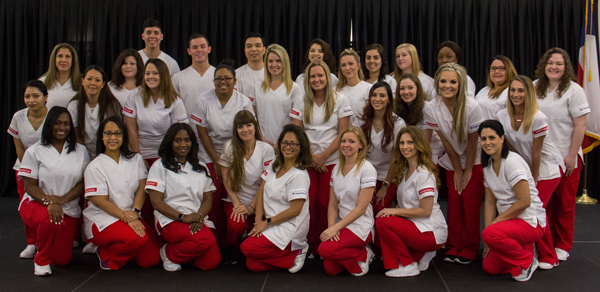 After more than 1,660 hours of clinicals, classes and labs, 41 students in the College of the Mainland Associate Degree Nursing Program have graduated ready for service.
Two students received awards for their outstanding work. Julianna Cody, of Dickinson, received Student of the Year Award, and Crystal Gant, of Houston, received the Outstanding Clinical Performance.
"I knew I wanted to do nursing when my grandpa was put on hospice care and they were short on staff. I quit my job and helped take care of him," said Gant.
Gant completed clinicals at facilities including Michael deBakey VA Medical Center and a capstone course at the University of Texas Medical Branch, where she shadowed nurses.
"The capstone course applies everything I learned in the whole program," said Gant. "The most important thing is listening to the patient because he or she knows how he or she is feeling."
Gant hopes to serve in an intensive care unit.
"Patients are the most critically ill there. You see them in critical condition with an IV and then you see them weeks later leaving. You know you had a part in that," said Gant.
The COM Associate Degree Nursing Program helps each student succeed through faculty mentors for each student, interactive labs and group and individual tutoring at no cost.
The program also has a transition track for licensed vocational nurses who want to become registered nurses. Scholarships and financial aid are available.
For more information, visit www.com.edu/nursing.