COM Fire Academy graduates 20, awards top students
Jun 2, 2017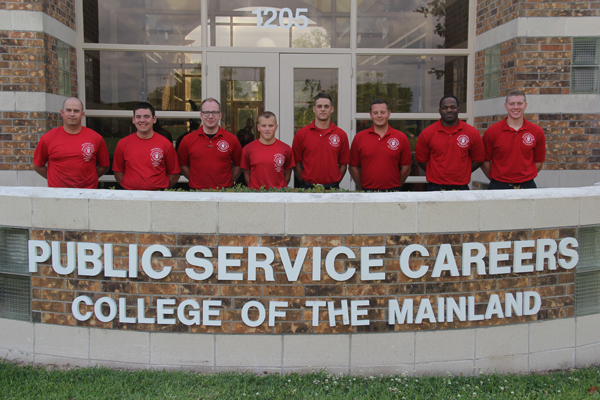 After more than 600 hours of rappelling, studying and simulating rescues, 20 students are ready for emergencies after graduating from the College of the Mainland Fire Academy.
A few stood out for special awards.
In the COM Day Fire Academy, Chase H. Trexler won the Class President Award for leadership, Jeffrey W. Harvey won the Highest Average Award for academic excellence, while Patrick S. Wadyka won the Top Rung Award for his outstanding performance in all areas.
In the COM Night Fire Academy, Matthew J. Southwick swept the Class President Award, Highest Average Award and Top Rung Award. Jarad C. Barr and Eric K. Fludd-Sidney won the Instructors Choice Award.
Matthew Southwick, of Texas City, decided to become a firefighter to follow in his childhood mentor's footsteps.
"In the COM Fire Academy, I learned a lot about what it takes to be a leader," said Southwick.
Jarad Barr, of Friendswood, has always been interested in firefighting and became a volunteer firefighter for the Friendswood Volunteer Fire Department two years ago.
"I learned quite a lot of skills in the academy at COM that form the foundation of what I need to know and constantly train and improve on to be a successful firefighter," said Barr. "Next for me is to complete my emergency medical technician-basic course so that I may get my Texas Commission on Fire Protection certification."
After graduation, Eric Sidney, Friendswood, also plans to earn his emergency medical technician certification.
"The academy was by far the hardest thing I've ever done in my life so far! It showed me that your hard work never goes unnoticed. I learned the true value of hard work and integrity," said Sidney.
Jeffrey Harvey, of League City, was motivated to become a firefighter after high school by a family friend who is a lieutenant for the San Antonio Fire Department.
"I learned a lot in the academy, but what stands out the most is the importance of dedication and teamwork. The fire service is one massive family and it's amazing to see that in action," said Harvey.
Patrick Wadyka, of League City, said his friend Austin Brinkley, who graduated from COM Fire Academy and is now a firefighter in Galveston, motivated him to join the ranks of firefighters.
"He always tells me it is the best job in the world," said Wadyka. "The academy taught me everything I will need to know to be a firefighter from fighting house fires to vehicle extrication and even a lot of survival skills and discipline. The hands-on teaching makes it really easy to retain everything I learned there and made the class very enjoyable."
The COM Fire Academy prepares students in hands-on classes and physical training to respond to emergencies. It partners with firefighters with decades of experience to equip students to take the state certification test.
It offers a full-time, one-semester Day Fire Academy or part-time, two-semester Night Fire Academy to fit students' schedules.
For more information, visit www.com.edu/fire-technology or call 409-933-8285.