COM alumni win national honor society awards
May 18, 2017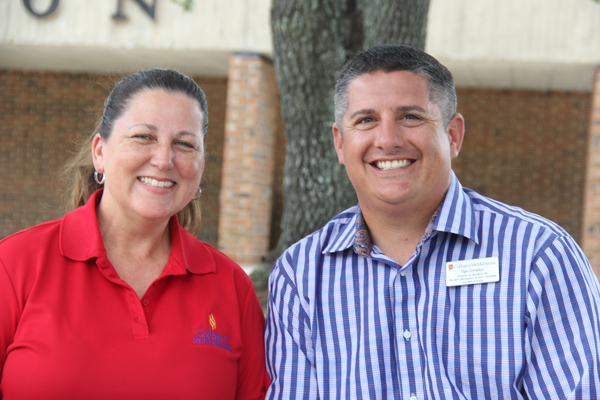 For Kari Drake, joining the international community college honor society showed her children what she could accomplish. For Tige Cornelius, the organization helps him connect with students who want leadership development, teamwork and success.
College of the Mainland alumni and employees Kari Drake and Tige Cornelius recently won awards from Phi Theta Kappa, the international community college honor society, for their tireless support of the organization and students.
"Tige Cornelius is fierce in both competition and his strive for excellence. He is always there to offer a kind word of motivation or a coach-like pep talk telling you to get back out there and fight," said COM Phi Theta Kappa president Kaci Maris, who nominated him for the award.
Cornelius was one of only 24 college administrators nationwide honored with a 2017 Distinguished College Administrator Award for his work to help the chapter succeed. Tige Cornelius serves as the COM director of student life.
"Phi Theta Kappa has a lot to offer students through college projects, Hallmark Awards and scholarships," said Cornelius.
Cornelius advocates for the chapter by sharing the chapter's accomplishments and the benefits of membership with students, faculty and administrators. He supports the chapter to ensure it has all resources needed for events and projects and encourages members to participate in campus life.
"He is full of energy and gets students motivated to come to school, stay in school and complete a degree or certificate, all while having fun! He encourages and inspires students through his own story and always with a smile," said Maris.
Drake won a Phi Theta Kappa Alumni Award Appreciation Award. As a student, Drake served as public relations officer for the chapter on the COM campus, and she now serves as events and travel coordinator in the Student Life Department.
This year, Drake helped the COM chapter once again earn the highest ranking of Five Star Chapter. She also helped coordinate chapter volunteers for the COM 50th Birthday Bash celebration, arranged the chapter president's trip to the PTK Honors Institute, purchased supplies and worked with chapter officers to arrange alumni speakers at orientation, induction and workshops.
"Kari's focus is on allowing interested students to gain as much information about PTK as possible, because Kari knows what a difference it can make. Kari is the first to acknowledge her prior PTK membership and time as an officer," said Kaci Maris, nominator. "Kari spoke with us about her Chapter Project as a student, and we utilized it to inspire our Service Project for this spring. Kari has given us ideas on how to increase our membership. She expects greatness from us on campus and pushes us to be as involved as possible."
Drake joined Phi Theta Kappa as a student returning to college after many years.
"I really enjoyed PTK. The service aspect attracted me. We went to clean up the beach and planted marsh grass. We helped with Bike Around the Bay," said Drake. "It helped me work on my leadership skills. I wanted to show my high-school aged son and daughter you can be in the honor society at any age."
Phi Theta Kappa is an honors organization that enables active members to apply for PTK scholarships at four-year colleges. The activities of PTK focus on the development of leadership, scholarship, fellowship and community service.
To be eligible for membership, a student must have a GPA of at least 3.5 with at least 12 college credit hours. Once a member, a student must maintain a GPA of at least 3.0.
The COM chapter of Phi Theta Kappa has been a Five Star Chapter, the highest level of honor, for nearly 20 years. Visit www.com.edu/ptk for more information.