From eviction to honors graduation
May 16, 2017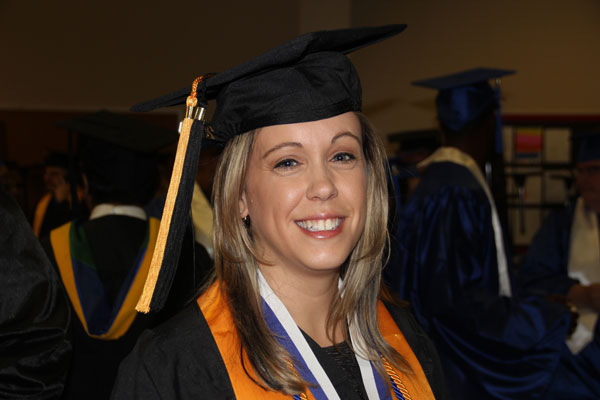 Nearly 10 years ago, Leslie Ornelas was let go from her job, evicted from her apartment and her car was repossessed.
"My life was in turmoil," said Ornelas.
She climbed aboard a Greyhound Bus and relocated to Texas City, where she eventually found a job helping individuals with tax returns at United Way-Mainland Galveston County.
"I will always remember March 6, 2014. I met College of the Mainland employee Robert Arenas at work and while talking with him, he asked me a very important question: Why did I not go to college? He saw right through every excuse I could think of: not enough time, not enough money and not enough confidence," said Ornelas.
"By the time he left that day I was ready to enroll. I came the next semester," said Ornelas. "When I got pregnant at 18 years ago, no one thought I'd go to college. I told my husband that not only am I going to go back but I'm going to do it to the fullest."
As the first in her family to attend college, she faced myriad challenges.
"I enrolled in one class because I wasn't sure I could do even one class," said Ornelas. "I didn't know the difference between an associate degree and a bachelor's degree or what a syllabus was. It was hard. I leaned on TRiO advising and tutoring."
Arenas works for the COM TRiO Student Support Services Program, which gives extra help for first-generation college students, such as tutoring, advising and a laptop-lending program. He coached her on classes and connected her with resources.
"He did a really good job helping me schedule classes. He pushed me. There were times I'd say, 'I don't know if I can do it,' and he'd say, 'If anyone can do it you can, Les,'" said Ornelas.
She worked 40 hours a week while almost always taking a full load of classes.
"I do online classes so it's really taught me to be self-disciplined," said Ornelas. "I get home from work and make dinner and there's times I don't want to do it. I force myself to stay up until 1 or 2 in the morning to get my work done."
She excelled and qualified for Phi Theta Kappa, the international community college honor society. She was an officer with the COM chapter of Phi Theta Kappa and assisted with several service projects.
"Phi Theta Kappa gave me a chance to be involved and meet people and I feel like I made a lasting mark on campus," said Ornelas. "I owe credit for much of my academic success to my Phi Theta Kappa family. Throughout my time serving last year, I gained valuable leadership experiences and the opportunity to grow both personally and professionally."
She also received a COM Foundation scholarship for books and tuition.
"When I decided to change my major from nursing to business I had to take extra classes and money was really tight. If I didn't have the scholarship I would have had to take one or two more semesters," said Ornelas.
She's already seen her determination pay dividends.
"I've seen a change in my son's attitude," said Ornelas. "We do homework together. He keeps saying, 'When I go to college, mom,' not 'if.' I feel like I'm starting something new with my children."
Robert Arenas introduced Ornelas when she spoke at graduation.
"I know this is just the halfway point for her. I keep telling her, 'You are master's degree bound,'" said Arenas. "She's that organized, cool and smart. I'm her biggest fan."
Ornelas thanked Arenas in her commencement speech.
"Mr. Arenas saw something in me that day that I could no longer see in myself, a fighter whose fierceness had only faded but never burnt out," said Ornelas.
Six months ago Ornelas was promoted to assistant executive director of United Way-Mainland Galveston County and she's already accepted to the University of Houston-Clear Lake School of Business.
"It's never too late to go back to school. If I can do it, anyone can do it," said Ornelas.
Learn more about COM Student Support Services at www.com.edu/student-services/trio.