Veteran to share story at COM graduation
May 9, 2017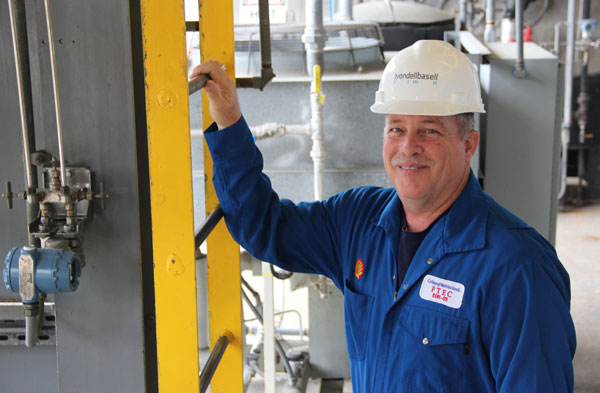 Barry Elkins has a message for his classmates.
"Even if you're 54, you can do anything if you set your mind to it," said Elkins.
The former Marine came to College of the Mainland at 52 to earn an associate degree in process technology.
He will share his story May 13 at the 1 p.m. commencement ceremony at Abundant Life Christian Center. A second commencement ceremony will be held at 10 a.m.
"It was a challenge but we Marines like challenges. We don't quit," said Elkins. "I brought to the classroom my lifetime of experiences and younger students showed me how to stay up studying."
He excelled, making the dean's list and being inducted into the COM chapter of Phi Theta Kappa, the international community college honor society.
As president of the COM PTEC Club, he worked to increase the number of students in the club, which provides camaraderie, tutoring and a textbook-lending program.
"He has been very instrumental in the success of the PTEC club. He has provided great leadership to other officers and members. He organized a new PTEC student orientation, plant tours and a resume workshop, interview prep, and mock interview workshop," said process technology professor Al Jivan. "He's always helping other students understand the material and helping them succeed in their courses."
Elkins balanced classes in physics, chemistry and process operations with offering a hand to classmates.
"I've made friends here I'll keep for a long time," said Elkins. "Professor Stacey Henderson, Al Jivan and Dr. R.E. Davis changed my life and how I look at things. They are so passionate about teaching and that rubs off on us."
A Marine veteran of the first Gulf War, Elkins juggled two part-time jobs while taking a full load of classes.
He doesn't regret it.
"I did my research and COM was the college I heard the most good things about it, the glycol separation unit and instructors," said Elkins. "I'm proud I came here over any program in the Houston area. The training at COM is unsurpassed. I've done a lot of research on other PTEC programs. It's not facilities that makes program successful - it's the instructors."
Learn more about the COM Process Technology Program at www.com.edu/ptec.