World traveler graduates at 75
May 2, 2017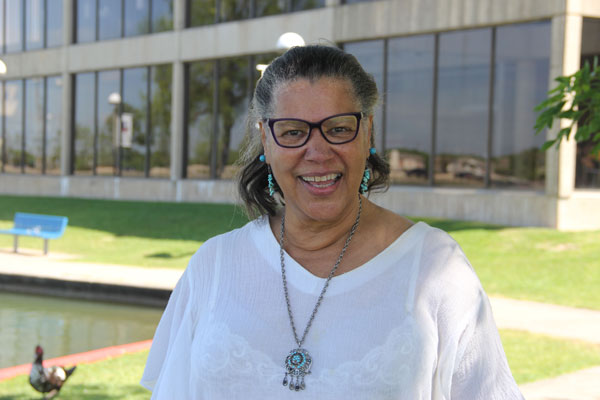 At 75, Madeline Adams, of Texas City, is about to be a college graduate for the first time.
Her road to graduation was long -- In the 1960s she had attended University of Nebraska-Omaha and in the 1980s she took interior design classes at Drake University in Des Moines.
"Life happened," explained Adams. "I got married and right away started having children."
She has three children, 12 grandchildren and seven great-grandchildren, whom she names as part of her motivation to stay active and who urged her to complete her degree years later.
As a College of the Mainland student, Adams joined classes and stays active with the Student Government Association, the COM Fitness Club and the Organization of African American Culture, which recently had a "living history museum," her idea to highlight Black History Month.
"I played Mae Jemison, a female astronaut who happened to be black. We started as 'statues' until we came 'alive' and then we spoke," explained Adams.
Diploma – and a job offer
While in college, Adams learned of a part-time job with Carnival Cruises offering the perk of two free cruises a year. She applied and for her job interview she decided to wear her Phi Theta Kappa pin for her membership in the international community college honor society.
"The interviewer asked me how my grades were, and I showed her the pin. She turned around and got the employee packet and said, 'You're hired. I'm a PTK graduate too.'"
Adams now checks passengers in as they board cruise ships.
"The job I have is fun. I make a party out of it with everyone who passes through," said Adams.
Adams previously was a tour guide with Haley Travel in Senegal, Ghana, Nigeria, Ivory Coast and Mali.
Tourists in Africa want to smell every flower, touch every blade of grass," said Adams. "I did too."
Life in the classroom
Adams draws on her rich life experiences in classes from history to psychology.
"Some of the time in history class I can say I was there, especially civil rights," said Adams.
She finished up her final classes this semester, bouncing from physical education to history to psychology.
"She is by far the most enthusiastic students I've ever had," said history professor Patricia Ovesny. "She got everyone else excited. She did her presentation on the African slave trade, and she showed pictures of her trips in Africa and dressed in traditional African clothing."
Getting involved on campus
With Phi Theta Kappa, Adams was part of a group project to serve lunch to custodial and maintenance staff to thank them for their work.
"Now we see them on campus and they say hi," said Adams. "Here you're not a number. You're part of a family."
She will graduate in May with an Associate of Arts in general studies.
"I'm excited," said Adams. "To be able to wear the PTK sash is pretty exciting."