High schooler exploring space at NASA
Apr 5, 2017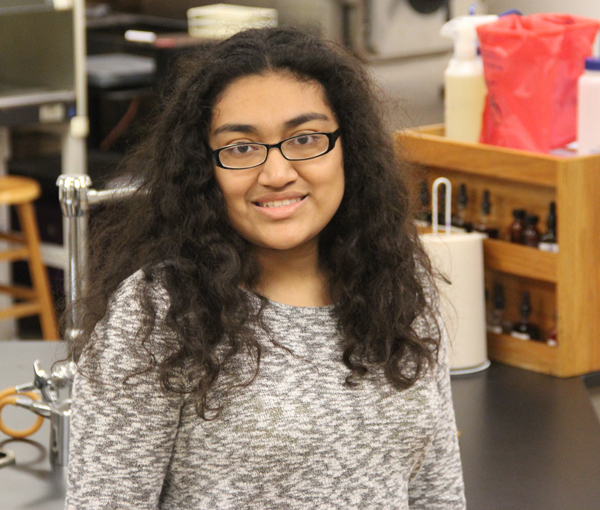 Maria Henriquez, College of the Mainland Collegiate High School student, is heading to NASA.
After exploring the galaxies in the Texas High School Aerospace Scholars Program, an online program sponsored by NASA. Henriquez, of Galveston, was invited an onsite campus experience the Johnson Space Center with expenses paid.
"I'm excited for this hands-on experience and meeting new STEM nerds like me!" said Henriquez. "I really love doing the hands-on activities in the Texas High School Aerospace Scholars Program, especially this engineering endeavor. I had to automatically dispense a marble from a cup hanging on a zip line to hit a target."
Henriquez applied for and was accepted into the competitive program. Highlights included learning about bio-mimicry technology, how to be next generation of astronauts and a medicine that can prevent bone loss in space.
"I learned how NASA is studying airplanes to reduce noise and make them more eco-friendly. The articles and videos talked about NASA's mission to Mars, and even to Europa, Jupiter's moon," said Henriquez.
A COM Collegiate High School student, Henriquez is earning an Associate of Science in mathematics from COM while completing high school. She plans to transfer a four-year university and major in chemistry and math.
"Collegiate High School exposed me to many like-minded students. It is definitely one of the best decisions I ever made, especially that I have a head start in college," said Henriquez.
Henriquez is also actively involved in Phi Theta Kappa, the international community honor society, at COM. She is co-chair of the chapter's College Project, which this year focused on creating scholarships for students who qualify for PTK to cover the $85 application fee.
"Maria has blossomed into very confident young lady driven to be the best. She is truly a brilliant young lady destined to accomplish big things in her future," said Sandi Belcher, principal of COM Collegiate High School.
For more information on COM Collegiate High School, visit www.com.edu/chs.