Scholarship recipient first in family to get degree
Mar 30, 2017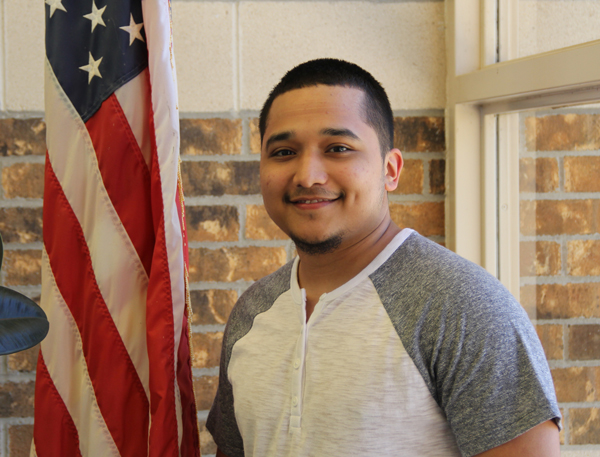 For Marcus Garcia, of Texas City, a scholarship made the difference between his staying in college or dropping out.
The criminal justice major is working full-time as assistant manager at Hurley and takes four classes a semester at College of the Mainland.
"The scholarship covered most of my tuition. I paid for everything else, and that made me more determined to do school well," said Garcia. "Without the scholarship, I probably wouldn't be in school at all or I'd have to take off a semester to work and save money to come back."
After high school Garcia worked for several years before a conversation with his mother about his goals made him decide to tackle college.
"I like challenges," said Garcia. "Neither of my parents had a high school diploma. They didn't know what college was. I had to do college on my own."
After learning that Garcia didn't qualify for financial aid, advisor Kristen Hatfield encouraged him to apply for COM Foundation scholarships.
"I would not be in school at all without this scholarship," said Garcia, who received the Pete Rygaard Scholarship for public service career students.
After graduating with an associate degree in criminal justice, Garcia aims for a career as a police officer.
"There should be more good people to protect and serve," said Garcia.
Garcia is now on track to graduate in fall 2017, and he's not the only member of his family returning to school.
"I think seeing me doing my homework until 3 a.m. motivated my dad to get his GED. He's in the COM GED preparation classes now," said Garcia.
Since 1967 College of the Mainland Foundation has been making a difference in the lives of students. The fundraising arm of the college, the foundation is a separate 501(c)(3) nonprofit organization. Gifts from our alumni, friends, employees, corporations and foundations support and maintain the highest quality of education for our students through scholarships, vital student programs and instructional innovations across campus.
For more information, visit www.com.edu/foundation.