Caregiver, honors graduate, mom
Feb 16, 2017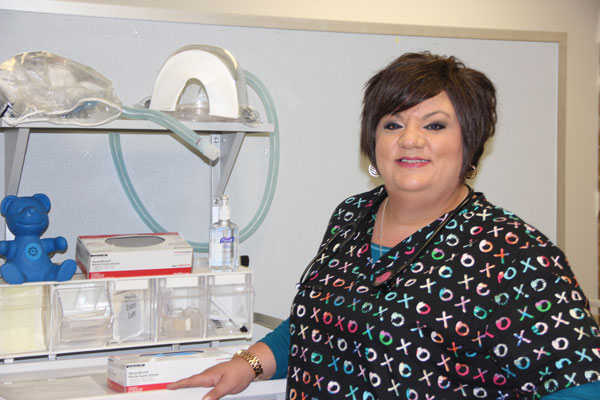 In 2004 Jennifer Ausmus was expecting healthy twins and had a successful career in the aerospace industry.
Everything changed when Ausmus delivered her twins and learned that her daughter Natalie had Pfeiffer Syndrome Type III. Natalie has severe hearing loss, cognitive delays and is medically fragile.
"My life changed instantly. I left my job in 2006 because she was having numerous surgeries," said Ausmus.
Now 12, Natalie has had about 60 reconstructive surgeries and procedures.
"Oct. 4, 2010, is the day Natalie nearly lost her life in the operating room during a high-risk reconstruction surgery. With faith and a dedicated medical team, 30 days later she walked out of the hospital with a port for IV infusion to fight post-surgical infections that I administered every six hours for six weeks," said Ausmus. "For years I was known as Natalie's mom without a separate identity. We had a lot of home health care and nursing in the home. I was taught by nurses how to do medical care to maintain her health, and I eventually just did it all on my own."
In 2015 Ausmus determined that she wanted to return to college – this time to enter the medical field.
"I knew that was where I wanted to be. I have the empathy for it. I've been on both sides," said Ausmus. "I have a big heart and passion for the patients and their families because I have lived it."
To help with classes and books, Ausmus received scholarships from College of the Mainland Foundation.
"The scholarship that really stood out to me is the Women Returning to Work Scholarship because it meant I really was building a new career and the donor had faith in my abilities," said Ausmus.
She tackled classes in pharmacology, anatomy, medical insurance in the COM Medical Assistant Program and completed clinicals at University of Texas health care facilities.
"There were times I'd get overwhelmed with life. Let's face it, I have three kids and I am not 18 years old. I'd call instructor Cheryl Bordwine and say 'I'm going to quit,'" said Ausmus. "I had a few meltdowns, but the instructors are there for you physically, emotionally and educationally."
Ausmus completed her first semester with a 4.0 GPA and was inducted into Phi Theta Kappa, the international community college honor society Dec. 1, 2016.
"Coming back to college after so long, I had my battle buddies [classmates] help me out in the beginning. Our class finished strong," said Ausmus.
She passed the national certification exam, certified medical assistant via the American Association of Medical Assistants, completing a three-hour test in a little over an hour.
"I was well prepared. When I came home and told my family that I had passed the certification, my 12-year-old daughter Olivia hugged me and started crying," said Ausmus.
Recently graduated, she received eight job offers in two weeks. She accepted an offer as a certified medical assistant at the University of Texas Medical Branch in League City.
"I was very unsure about COM, and it turned out to be one of the best decisions I made in my life," said Ausmus. "It gave me a dream, empowerment and success. I had no personal identity left. I was known as Natalie's mom and now I have an identity again and a promising career. I wanted to show my daughters that no matter what life throws your way, there's still hope to change your life and rebuild yourself."