The other side of health care
Feb 14, 2017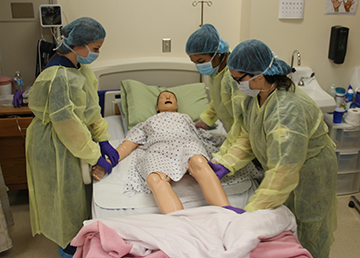 While often doctors and nurses are the most visible health care professionals, many others work behind the scenes. As health care grows, professionals such as nurse aides, dental assistants and phlebotomists are increasingly in demand.
Certified Nurse Aide
"A lot of the patients can't speak for themselves. We are their voices," said Marci Fleming, who teaches the COM Certified Nurse Aide Program.
Fleming also works as a licensed vocational nurse at Harborview at South Shore in League City. She cares for patients who may have dementia, an injury or an age-related illness.
In classes she tries to help students see themselves as a patient with hands-on activities.
"Nobody knows how it feels to be a patient but a patient. You have to have empathy and the ability to put yourself in their shoes," said Fleming. "Sometimes I'll have students feed each other blindfolded or role play or practice using a safety belt to transfer each other from a bed to a chair so they see how it feels."
The program consists of 69 classroom and 40 clinical hours to prepare students for the state certification exam. Students can complete the program at the League City location or the main campus.
"I wouldn't change one thing about my career," said Fleming. "When you see patients that love you and are happy to see you, it makes it all worth it. Even a hug - it's an awesome feeling to be needed and loved. When you're not there they notice. You're important in their life."
Dental Assistant
"I love my job. You calm patients and take their minds off of dental work. You meet patients and start relationships with them. I have seen kids grow up, go off to college, get married and have kids," said instructor Amie Butler, who teaches the COM Dental Assistant Program.
One of fastest growing jobs in America, dental assistants on average earn $35,980 per year, according to the Bureau of Labor Statistics.
Students in the College of the Mainland Dental Assistant Program learn hands-on through classes and at local dentist offices. They practice taking X-rays, sterilizing equipment and making molds of teeth.
In the program students explore health care laws, safety, infection control and record keeping. Students prepare for the state licensure exam and have a high pass rate.
Phlebotomy
"The course is for those who are ready to touch many lives with their skill and compassion for people," said Veronika Moreno, who has teaches the COM Phlebotomy Technician class and also works at a local hospital.
Phlebotomy technicians collect blood samples when donors give or patients need medical tests. Medical professionals use blood tests to diagnose illness, evaluate medications' effectiveness and determine whether a patient is low in nutrients.
The median pay for phlebotomists is $31,630 per year, according to the Bureau of Labor Statistics.
The COM Phlebotomy Program prepares students to excel on the phlebotomy technician exam by the American Society for Clinical Pathology. Students learn through classroom instruction, hands-on experience and clinical rotations at hospitals and clinics.
"Clinical rotations immediately get a student's foot in the door with health care facilities," said Moreno.
For more about allied health care classes and financial aid, visit www.com.edu/ce/allied-health.