Welding a Career
Feb 8, 2017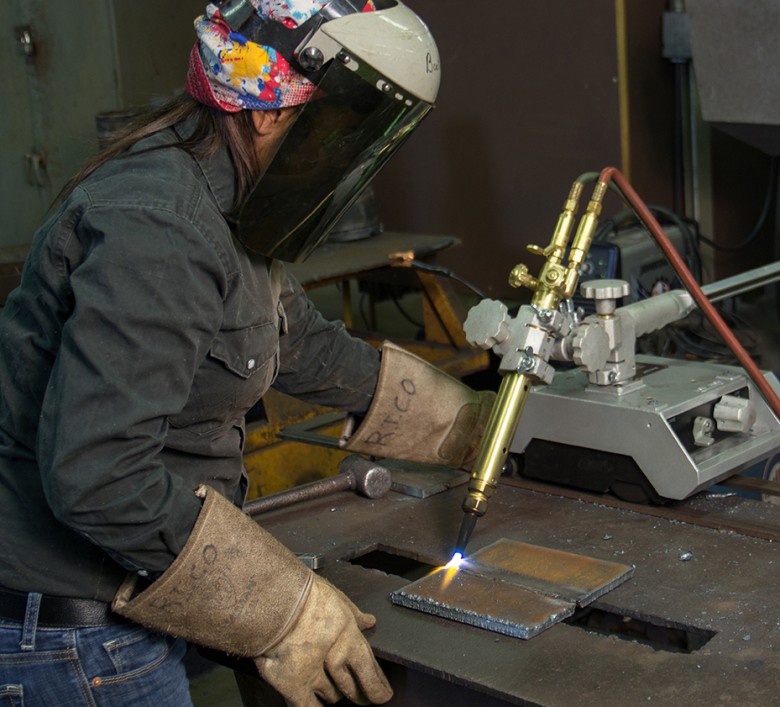 As a combo welder for 3-J Ryan Inc. in Pasadena, Marissa Cantu works to turn eight-foot sheets of metal into pipes every day.
"It's rewarding if you love it. Every day I'm learning something new. If you're in the field, you want to be the best at it," said Cantu.
She welds on 36-inch or 72-inch pipe. Each type of metal – chrome, stainless, iron – requires a different type of preparation and weld, so it's diverse and precise work.
"The pay is great. At 20, I'm making $32 an hour. I didn't imagine this for myself in high school," said Cantu. "You can make great money using your hands and I think that's rewarding as well."
She earned the COM One-Year Welding Certificate, which prepares students to work as a pipe welder.
"If I hadn't taken these classes, I wouldn't be prepared to be in this field," said Cantu. "You have instructors to help you, showing you what you're doing wrong."
She is the only woman welder at the company.
"You need to be able to keep up, work fast and work well," said Cantu.
Employment of welders in the Gulf Coast from 2011 to 2020 is projected to grow 26.7 percent, according to Workforce Solutions. The average hourly wage for welders in Texas is $20.95, according to the Bureau of Labor Statistics.
In COM's Welding Program, students can earn a degree or certificate to prepare them to enter the field or to upgrade their current skills. All former professionals, instructors guide hands-on practice in the welding lab and provide instruction in blueprint reading, welding principles, structural steel codes and welding inspection.
"There are jobs all across the U.S. It's a good time (to enter the field)," said Doc Miller, welding instructor.
Classes begin regularly throughout the year.
For more information, call 409-933-8380 or visit www.com.edu/welding.