Police Academy honors top graduates
Feb 1, 2017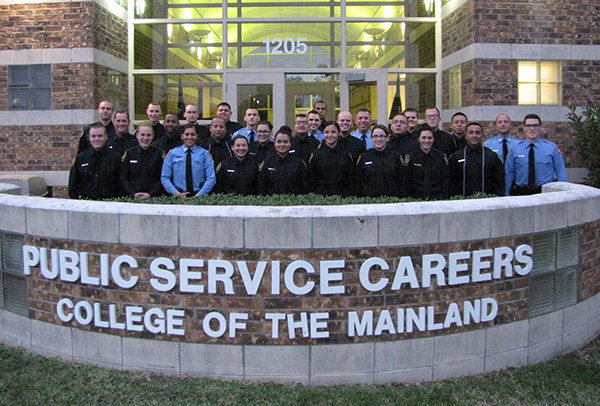 After 768 hours of training, 31 cadets have graduated from the Fall 2016 College of the Mainland Basic Peace Officer Academy.
Three were awarded for excellence. Todd A. Spillman, of Galveston, was the recipient of the Academic Award by achieving the highest grade point average. Sergio Torre Jr., of Seabrook, earned the Top Gun Award for his stellar marksmanship, and Kamron Mooneyham, of La Marque, was elected as class sergeant and earned the Director's Award for leadership.
"Students train in the classroom and in hands-on training which includes time on a situational simulator. The computer simulator presents a scenario, which changes based on the student's response and whether they are showing command presence or not," said Thom Karlok. "I believe we're the only academy in the area with a situational simulator that can assist students in learning how to properly respond to possible police situations in real time."
A total of 30 graduates out of this class have taken the Texas state licensing exam, and all 30 have passed on the first attempt.
In 2016 the COM Basic Peace Office Academy graduated 58 students in three classes. The 2016 success rate for students passing the state licensing exam on the first attempt was 98.24 percent.
In the COM Basic Peace Officer Academy, students learn how to investigate, write reports, properly use force, diffuse situations verbally, as well as receive detailed exposure and testing on state and federal laws. Day credit academies begin each January and July. Night academies begin each February. Students may apply for financial aid and scholarships.
For more information, visit www.com.edu/law-enforcement or call 409-933-8285.