Fire Academy awards graduates
Jan 31, 2017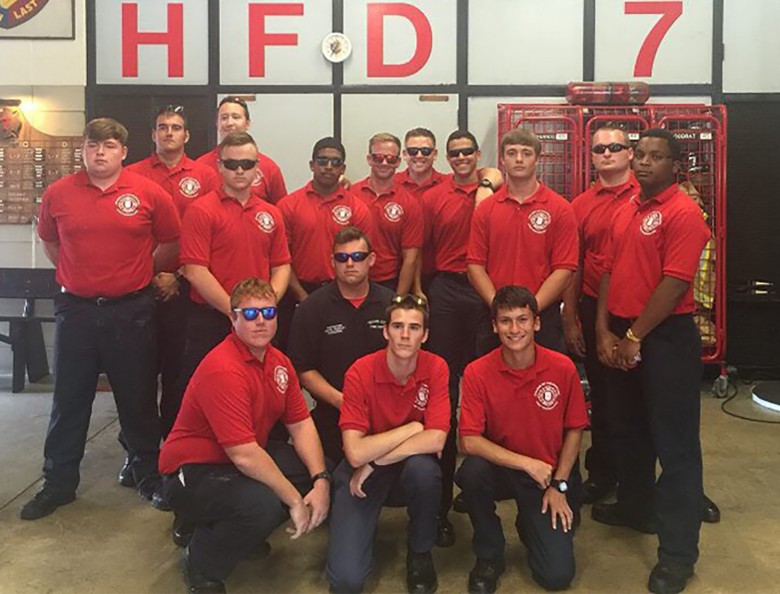 Now, 13 more firefighters are ready for life-saving duty after graduating from the College of the Mainland Fire Academy.
All mastered 130 skills in 640 hours of training and passed the state exam. Plus, four graduates garnered awards for their outstanding work.
Travis J. Chappell received the Highest Class Average Award for earning the top grade. Kyler Pitman won the Top Rung Award for excellence. Daniel T. Barkley earned the President's Award for serving as class president and liaison between students and instructors. Christopher Elia received the Instructors Award for his outstanding work.
"The top four were excellent students and they stood out," said Danny McLerran, COM fire academy director.
Chappell, of League City, has been hired by the Houston Fire Department and will begin in March.
"Being the person who someone calls on their worst day, whether it be a medical reason or fire, has always appealed to me. There are not a lot of people that get paid to run into a burning building, I wanted to be one of them," said Chappell.
"We learned a systematic way to search any structure for victims and how to get ourselves and others out of the building from any point within it. We also learned about teamwork, trust, counting on someone else and found out how tired we could be and still continue to push through. I think we learned just as much about ourselves as we did fire."
Pitman, of Beach City, is a volunteer firefighter with the Beach City Volunteer Fire Department in Baytown.
"I choose firefighting because I've been a volunteer since I was 15 and fell in love with it at a young age," said Pitman. "Instructors made the TCFP [Texas Commission on Fire Protection] exam easy for me with all the material they taught us. They also taught us the meaning of hard work and what it means to earn the title 'firefighter.'"
Elia, of Texas City, excelled in hands-on and classroom instruction.
"Elia had a great attitude, always worked well with instructors and was a good student," said McLerran.
Barkley, of Alvin, is a paramedic with the Texas City Fire Department.
"He did an outstanding job working with students and instructors," said McLerran. "The Fire Academy is mostly hands-on learning in the firefighter procedures they'll perform in the field."
The COM Fire Academy is taught by career firefighters and includes instruction in hands-on firefighting skills and physical education training. After successfully completing the academy, students are eligible to take the TCFP's fire suppression examination.
For additional information regarding COM's Fire Academy, visit www.com.edu/fire-technology.